As a developer or designer, you take pride in providing future tenants an outstanding experience when they stay in condos designed by you. And, while an outdoor kitchen may be a desired amenity to include in your next build, it may seem like too much of a hassle with all the necessary piping, fuel needs, and safety concerns involved, including a no open flame ordinance.
Fortunately, there's a better (and tastier) alternative to traditional fossil fuel-based grills – a flameless electric grill.
Outdoor electric grills are safe, compliant, easy-to-install, and perfect for luxury dining. Whether you want to install an outdoor kitchen on the first floor or the 50th floor, with electric grills, all you need is an outlet and you're good to go.
This blog outlines some basic information about outdoor electric grills, including sizes, requirements, and benefits. Alternatively, if you just want to look at specs and pricing, then you can follow the link below:
Why an Electric BBQ Grill is Perfect for Condos & Developments
When buyers look for a new condominium to live in, oftentimes their options can seem somewhat repetitive. Did you know, outdoor spaces consistently rank as one of the most desired amenities for rental property buyers? It's true! Outdoor kitchens boost development ROI as much as 200 percent, which means having an outdoor kitchen is crucial in showcasing your development to potential buyers.
But one of the difficulties of designing an outdoor kitchen is the work and regulations that go into it. With traditional fossil fuel grills you either have to include cumbersome tanks or complicated piping in your design. Or, depending on your jurisdiction, there may be a no open flame ordinance that prohibits you from being able to install one of these grills to begin with.
Electric BBQ grills are perfect for condos and developments for all these reasons and more. They are flameless and fully electric, only needing an outlet to plug in and use. No fuel, no piping, no flame, yet with the complete grilling experience your tenants are accustomed to and expect.
Read More – An Electric BBQ Grill with a View from the Top
What's the Best Outdoor Electric Grill for Your Commercial Project?
When deciding on an outdoor electric grill for your next development, you need to consider a variety of factors:
How much space do I have to work with?
What size of grill is best for my tenants?
What type of outlet do I need and how much voltage is necessary?
What material should my grill be made out of for long life?
Many of these answers will be contingent upon the project you're working on, but there are some universal best solutions to choose from.
For example, you should always choose a grill made with durable materials. At ElectriChef, we only build our grills with premium American-made 304 stainless steel. Using this material means these grills don't rust. Grills made from 304 stainless outlast lesser grills, especially in harsher climates.
Additionally, plan for the right amount of amperage and voltage to ensure your grill can get up to the temperatures tenants expect for a gourmet barbeque taste. That's why ElectriChef grills require a 220v power source which enables our grills to reach temperatures as high as 600 degrees.
Read More – Choose the Best Outdoor Electric Grill for Taste & Upkeep
220 Volt Outdoor Electric Grills
As mentioned above, using 220 volts allows you to get an industry-best 600 degrees heat which is perfect for searing food. Depending on your grill model, you'll want to choose the proper outlet. ElectriChef grills use the following types of outlets:
NEMA 6-20R
NEMA 6-30R
NEMA 6-50R
For an uncompromised grilling experience, that's all it takes! Simply spec in the proper outlet and you're ready to go!
Next, let's look at the types of grills available to you and how they're best used.
Read More – Uncompromised Grilling: 220 Volt Outdoor Electric Grills
Closed-Base & Pedestal Designs are Perfect Electric Patio Grills
One of the most common places to put a luxury grill is on a balcony or patio. The elevated view makes an enjoyable grilling experience that brings everyone together. But spacing and use can be a real challenge.
How much room do you have to work with? What other purposes will this patio or balcony have? Fortunately, ElectriChef has luxury outdoor electric grills designed to fit any space.
If your patio design requires adaptable space, then our mobile closed-base grills are perfect. These grills are entirely portable and include wheels on them. So, once you're done with your barbecue, they can be easily stowed away until the next time you need to use them.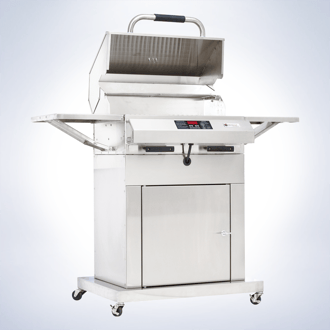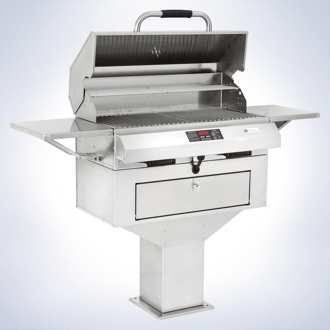 If you want to make an ElectriChef grill the centerpiece of your patio kitchen, then pedestal models are perfect for establishing the tone of your dining experience.
Read More – Big Flavor Comes in Many Sizes with an Electric Patio Grill
Built-In and Tabletop Electric Grills Are Perfect for Compact Grilling
For a more subtle approach, you may be more inclined to install your grill into a predesignated slot or even simply as an addition to an already existing countertop. For these purposes, a built-in or tabletop electric grill will suit your purposes best. Like with the closed-base and pedestal grills, your preference may depend on how adaptable you need your space to be.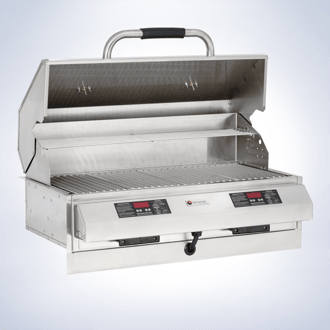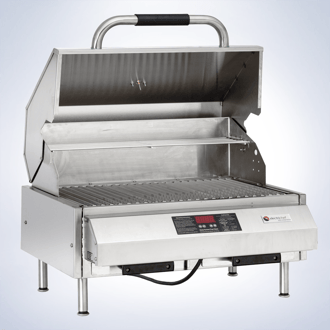 If the outdoor electric grill you need is simply the crown jewel on an already fantastic outdoor kitchen design, then a built-in grill is perfect. All you need to do is set it into the designated slot, plug it in, and it's ready to go.
If you need a more flexible outdoor dining space, a tabletop grill may work better. These models simply require you to set them on a hard, flat surface. Just plug in, and you're ready to grill.
Read More – Tabletop Electric Grills: Big Flavor in a Compact Form
Large Outdoor Electric Grills Bring Communities Together
As mentioned in the introduction, having an outdoor kitchen is a must-have if you want your next development to stand out amongst your competitors. That's because people naturally crave community and gathering around a barbecue is one of the more desirable ways of bringing people together.
For larger gatherings, ElectriChef offers grill sizes up to 48". These offer the most space for grilling a variety of entrees and sides, all from a single grill. Alternatively, you have the option of the slightly smaller 32" model.
Read More – Serve Authentic Flavor with an Outdoor Electric Grill
Rotisserie Accessories for an Authentic Electric BBQ Pit
At ElectriChef, we pride ourselves on enabling barbecue novices and experts alike to enjoy a fully uncompromised grilling experience, regardless of where they live. We offer an accessory just for those wishing to get that excellent rotisserie flavor just for that purpose.
However you like to grill, and wherever your kitchen is, ElectriChef enables you to grill without compromise.
Read More – Get the Full Grilling Experience You Expect Out of an Electric BBQ Pit
Learn More About Outdoor Electric Grills
Now that you know the options available to you, you're likely ready to take the next step towards including a luxury outdoor electric grill in your next development or design.
Once you request specs and pricing, we'll work with you so that you're installing the right grill for your commercial project, including getting discount volume pricing for your order.