So, you want to include a great outdoor kitchen on your next development's outdoor patio but are restricted by a no open flame ordinance. The most convenient option would be to go with a flameless electric option. These grills require no fuel source, need only access to an outlet to use, and are easy to maintain.
But, much like the balcony kitchen you're designing, not all outdoor electric grills are alike. This blog breaks down the quality and size you should look for in a grill for outside on the patio.
Grates, not Griddles: Quality Matters for an Electric Outside Grill
When your future tenants think of an electric grill, they likely have in mind one of those cheap griddles with the "As Seen on TV" sticker slapped on them. And, if that's the grill you offer them, they're bound to be disappointed.
That's because so many so-called electric grills are made with plastic and cook food on cheap griddles. The price is low because the quality is inferior, and you lose out on the ROI impact of having a genuine barbecue experience by settling on a burger griddle rather than a robust grill that cooks on actual grates.
For the best electric grill that provides that genuine outdoor barbecue experience, you're going to want a grill made with durable materials and performs just as well, if not better, than the traditional fossil fuel grills your tenants are used to.
Find the Right Electric Patio Grill for Your Development
At ElectriChef, we understand that no two balconies are the same. Your grill size and form factor needs will vary depending on your blueprints.
Learn More – The Developer's & Designer's Guide to Outdoor Electric Grills
Regardless of which model you go with, it's essential to know that all ElectriChef grills are made with:
American-made premium stainless steel
Burners that cook up to 600 degrees Fahrenheit
Electric controls with safety shutoffs
With these qualities, every ElectriChef grill is sure to provide tenants with the outdoor barbecue experience that they've come to expect.
Outdoor Grills with a Stand: Closed-Base & Pedestal Grills
If you're looking for the convenience of keeping all your grilling accessories within the grill cabinet, then there's no better option than a closed-base or pedestal grill. These are larger options with 24-48" of grill space.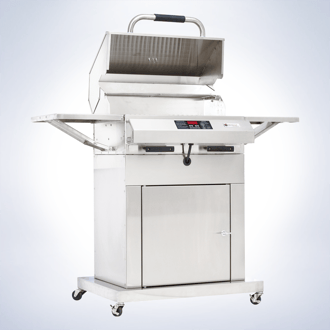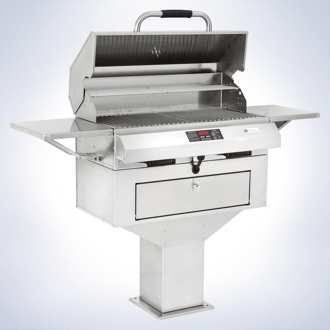 If you're looking for a stationary grill to make the centerpiece of your patio, then the pedestal option is the way to go. If you're looking for convenience, then our closed-base grills include wheels which make them a flexible option for when you need to change how your outdoor space is used.
Compact & Small Electric Grills for the Patio
If you're looking for a more compact form factor, then a built-in or tabletop model is the way to go. Like the closed-base grills, the tabletop models can be easily moved for storage when they're done being used, keeping your counter space flexible. However, if you already have a designated countertop space in mind, a built-in grill is an attractive option to complete your design.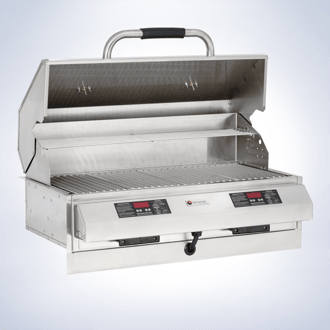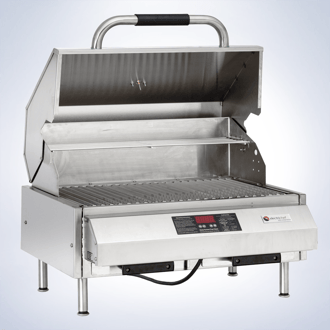 These grills come in various sizes, from as small as 16" up to a massive 48" grilling surface. ElectriChef has the perfect model for your patio regardless of your grilling needs.
Find the Right Electric Patio Grill for You
Now that you know the available options, you can begin to tinker with your balcony design. Ready to get started? Request our SpecSheet to see all the fine details of each of our grills to get the right one for your development.