Super Bowl Sunday has always been a fun cooking day in my house.
For the last few years, I have had great grilled recipes on the menu made especially for the big game and was lucky enough to have my favorite NFL team competing! My home is PATRIOT COUNTRY!
I have been a New England Patriots' fan for quite some time and anybody that knows me well, can attest to this information.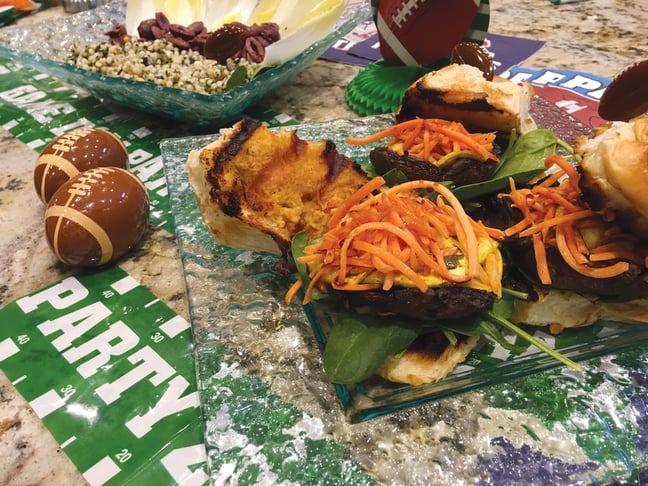 I know with all of the things going on in the press and in politics maybe it's not politically correct to say that you love a football team, especially the Patriots, but I LOVE football.
I love the sport, I love the competition, I love the camaraderie, but most of all I love inviting my friends to the house and preparing delicious grill recipes.
Parties, Patriots, and Planning
The game plan for Sunday
Well at least that's what I thought…the last time I hosted a Super Bowl party everyone at the party cheered against my team (the Patriots).
As history reminds us, The Patriots were behind the entire game, I never gave up, I believed they could pull off the greatest comeback in the history of the NFL, and they did. But during the agony of being behind the entire game, my guests were very unsupportive of my belief and were quite annoying in their lack of faith.
I found it quite interesting; they ate and raved about how delicious the food was hot off the grill, but, still had no interest in supporting my team!
So when the game was over I celebrated the Patriot victory and then tore up my 2017 invitation list and vowed only New England fans would be invited when we went to the Super Bowl again!!
Who knew the Patriots would be in the Super Bowl again? I did, or at least I believed they would.
So this year, I have decided to only invite one friend who will cheer and root for the Patriots, my friend of 25 plus years, Wendy. She's one of those friends who is so easy, she will ask me who I will be rooting for and she will in turn root for them, no questions asked.
Vegetarian Super Bowl Menu
Are there any vegetarians in the house?
Now, I have one guest and she's a vegetarian. Oh my goodness, no grilled honey chicken wings, grilled burgers, or chicken kabobs! No worries, I will make the most delicious and satisfying vegetarian recipe I know, my Grilled Portobello Vegetarian Sliders!
I'm so excited for this Sunday! An easy to grill recipe and the knowledge of no matter how the game turns out everyone will be rooting for the Patriots makes this a fun weekend to look forward to!
Some people may say a vegetarian Super Bowl Party cannot be much fun, but I disagree. I have perfected my Grilled Portobello Vegetarian Sliders so they can be made prior to the kick off and be warmed on the grill moments before eating kickoff.
Whether you enjoy football, root for the Patriots or are a non-vegetarian, the recipe below for Grilled Portobello Vegetarian Sliders is a winner. I have always said "The easiest and most nutritious recipes are always winners in my house."
Please enjoy my recipe below and know this year no matter what happens at the Super Bowl my party will have a winning menu! By the way, I have allowed my husband, Steve, to join the party, but he has promised to root for the Patriots, finally!
May the best team win! Thanks Wendy and (maybe) Steve, for being the "perfect Super Bowl Party Guests."

GRILLED PORTOBELLO MUSHROOM VEGETARIAN SLIDERS
Makes: 4
Number of Ingredients: 10
Recipe by: Chef Paulette Bilsky
INGREDIENTS
4 medium portobello mushrooms, stem removed and brown gills removed

3/4 cup shredded carrots

1 yellow squash, sliced thin

3 ounces pesto

4 ounces balsamic glaze

1 teaspoon olive oil

1 cup baby spinach, washed

4 brioche rolls (NOTE: Brioche rolls generally have eggs in them, if you are preparing these slider for someone who is vegan, choose a roll without eggs.)

4 tablespoons red pepper hummus

non stick canola spray
METHOD
Place cleaned mushroom on a plate and rub equal portions of pesto on each mushroom
PRO TIP: To clean a portobello mushroom twist off the stem of each mushroom. (keep stems to use at a later date to flavor stock). Holding each mushroom in one hand, use a teaspoon to carefully scrape out all of the gills from the underside of the portobello mushroom cap and discard. As a chef, I always remove mushroom gills, except when making soup. If you leave them on during cooking, other ingredients can become bicolored by the dark brown juices coming from the gills. This is a personal preference, they are edible.
Drizzle olive oil and one teaspoon of balsamic glaze on squash
Slice Brioche rolls in half and spread one tablespoon of red pepper hummus on top half
Spray your ElectriChef grill grates with Canola oil then preheat your Electric Grill to 425°F
Once grill is hot, place portobello mushrooms bottom side down of the grill, place yellow squash on the grill and the brioche rolls with hummus, hummus side down on the grill, close grill lid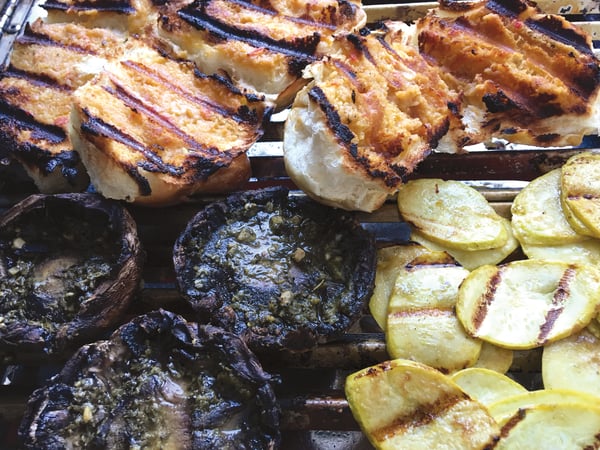 After 7-9 minutes, remove rolls and turn portobello mushrooms and yellow squash
After another 5-6 minutes remove everything from the grill, turn off grill
Place 1/4 of the baby spinach on bottom half of the brioche roll, place portobello mushroom on top of spinach top down, place yellow squash slices in the mushroom cap and then add shredded carrots
Drizzle remaining balsamic glaze evenly over the carrots place top of roll with hummus on top
Repeat until all sliders are made
Place sliders on a platter to serve or wrapped loosely with aluminum foil and keep at room temperature until time to eat.
Turn grill on to 300°F and place wrapped sliders on grill for 3-4 minutes while grill is heating up to warm sliders
Unwrap and serve (in time for kick off)
NOTE: The pesto I use is: 1 packed cup baby spinach leaves, 1-2 cloves of garlic, 1/2 teaspoon of fresh lemon juice, pinch of salt and enough olive oil to incorporate all the ingredient. Pulse together in a food processor. Use what you need a reserve leftover for a future date.
PRO TIP: I leave out the parmesan cheese and pine nuts from my pesto and only add them if my guests dietary restrictions allow. For the red pepper hummus, I purchased regular hummus (I usually make my own, but this time I had grilled red peppers in my refrigerator and blended the store bought hummus with the fresh peppers to make a semi-homemade hummus. I will post my full Grilled Red Pepper Hummus in future blog.
When eating these delicious vegetarian sliders please join me and root for the New England Patriots!!!
What's Next? Try out some of our recipes on new ways to have fun grilling up vegetables such as our Grilled Wedge Salad or Grilled Fennel and Tricolored Potatoes!