As I was putting together this blog, I was reminded of the reason behind the Fourth of July and why it is a National Holiday. At the University of South Carolina, I minored in history. When the Fourth comes around, I enjoy not only sharing my grilling recipes but also getting to share the reason for the festivities surrounding this red, white and blue event!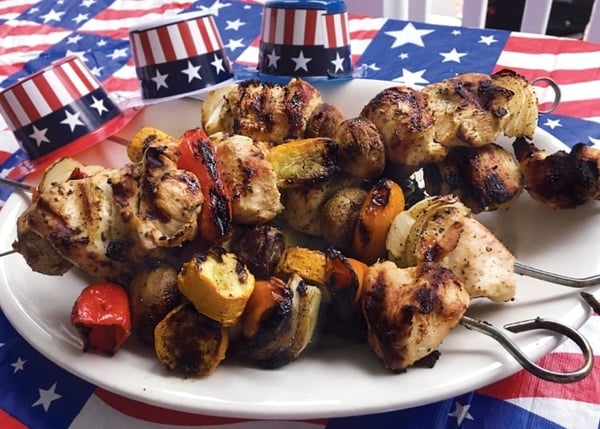 The Reason for the Season
It's the Start of Something New…
Independence Day, better known as the Fourth of July, commemorates the Anniversary (July 4, 1776) of the adoption of the Declaration of Independence. The Continental Congress declared the thirteen original colonies as the United States of America. "We the people," became independent of the British Empire and were finally on our own as a free nation. Wow, you must admit, that really is something to celebrate!
Grilling for Independence
A Founding Tradition
How did the tradition of BBQ's and grilling in the backyard come to fruition? With none other than the one topic that is avoided with families at most celebrated holidays: Politics.
Now don't worry, this is one political story that you may want to share. The culinary history of grilling on this holiday is fascinating! Political leaders in the 19th century would use July 4th to hold rallies to push state rights and other political virtues. Large crowds would gather and hold massive barbecues to celebrate their regional pride. Coming into the 20th Century people were encouraged to celebrate with their own BBQ's and Independence Day cookouts. This grilling fever caught on throughout the nation and has since become a national pastime.
A Grill for One a Grill for All
21st Century Celebration
The "delicious tradition" of grilling for Independence Day has no rules! It is even stated in the name of the day. Independence defined means: "not subject to control by others!" So, whether you grill hot dogs, hamburgers or my amazing Grilled Chicken Kebab recipe, know on this holiday of independence - you have the right declared by our founding fathers to - GRILL WHATEVER YOU WANT! But, as I have been known to say, "if you are going to grill, grill electric!"
GRILLED CHICKEN KEBAB RECIPE
Makes approximately: 4-5 servings
Number of Ingredients: 12
Recipe by: Chef Paulette Bilsky
INGREDIENTS
2 boneless, skinless chicken breast halves
NOTE: Chicken can be replaced with beef, sausage, salmon or pork. If you are a vegetarian, you can substitute chicken and just use all vegetables. One of my favorites is blanched cauliflower.
1/3 cup fresh lemon or orange juice
2 tablespoons olive oil
1/2 cup Dijon mustard
2 tablespoons Worcestershire sauce
1 teaspoon ground rosemary
1 teaspoon garlic powder
Salt & pepper to taste
6 cherry tomatoes
6 large mushrooms
6-8 multi-colored mini sweet peppers, tops and seeds removed
4 (8-inch) wooden or metal skewers.
METHOD
Cut chicken into 2 x 2-inch cubes.


Whisk together Dijon, orange juice, olive oil, and next 4 ingredients.


PRO TIP: Separate into a small bowl (about a 1/4 cup of marinade for basting).
Pour remaining marinade into a large re-sealable plastic bag; add chicken cubes. Place in refrigerator for about1 hour.


Remove chicken 30 minutes before grilling so chicken becomes room temperature.


Thread skewers with chicken and assorted vegetables and baste with extra marinade.


PRO TIP: Remember to soak wooden skewers in water prior to threading recipe ingredients to prevent them from catching on fire.
Spray grates with Canola oil then preheat ElectriChef's Electric Grill to 500°F.


Place kebabs on grill for about 8-10 minutes on each side, turning once and basting in between turns. The internal temperature of chicken should read 165°F for proper doneness.


Serve over grilled potatoes or your other side dishes.
S'MORES WITH A PEACHY TWIST
Makes approximately: 4 servings
Number of Ingredients: 7
Recipe by: Chef Paulette Bilsky

INGREDIENTS
2 peaches, stone removed and sliced into 8 pieces each
2 tablespoons unsalted butter, melted
3-4 ounces honey
1 teaspoon ground cinnamon
16 graham crackers (preferably cinnamon)
2 dark chocolate candy bars (break into 16 pieces)
A small bag of miniature marshmallows
METHOD
Turn on your ElectriChef Electric Grill to 450°F, carefully pour water into the drip tray. Spray your ElectriChef grill grates with Canola oil.


Place sliced peaches on grill in a single layer while grill is preheating and begin to steam.


Once grill has reached the desired temperature, baste with melted butter and sprinkle with cinnamon on both sides.


Peaches will become tender and when you see some grill marks drizzle them with honey. Place aluminum foil on the grill grates next to the peaches and place half of the graham crackers on the foil about one (1) inch apart.


Put a piece of dark chocolate and one or two mini marshmallows on each graham crackers and transfer a grilled peach on top of the chocolate, put top layer of graham cracker on top of grilled peaches and repeat until all peaches are used.


Turn grill off and close lid for about 5-8 minutes.


Once chocolate begins to melt S'mores are ready to serve.


What's Next? Share with us your favorite July 4th Celebration activities below in the comments! As well, if you need a good side dish for these Kebab's try these fresh grilled vegetables!