I read a statistic once that stated: "Americans consume approximately 50 billion burgers a year." This means America is grilling hamburgers at a frequency of 136,986,301 burgers per day!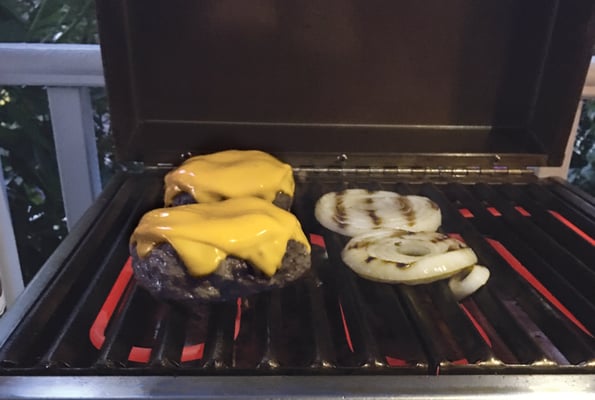 With a statistic like this, it is no wonder 75% of the restaurants in the United States are burger restaurants and the burger business has become a $73 billion-dollar industry.
I think we can all agree that is a lot of beef.
Why Have We Not Made More Burgers At Home?
Great Question...
So, I started to think, why haven't I come up with an amazing burger recipe for my ElectriChef Grill?
The reason: I thought everybody knew how to make a great burger.
I started to ask around to see if people are grilling hamburgers on their grills. Most of my friends said they eat burgers at restaurants with their children or while watching sporting events at the bar. They save the grill for steaks, ribs, chicken, fish, and vegetables.
If they do grill burgers, I have been told it is quick with a bunch of hot dogs on the side. No special recipe, just grab the ground beef, make patties and throw them on the grill.
Here a Burger, There a Burger, Everywhere a Burger
So I decided to research how chefs in the business are making amazing burgers. I was amazed at how many types of burgers there are:
Hamburger, cheeseburger, turkey burger, sausage burger, chicken burger, veggie burger, bean burger, salmon burger, portobello burger, paella burgers, Chilaquiles Burgers (Bobby Flay), lamb burgers, buffalo burgers, hoisin burgers, duck burgers, crab burgers, tuna burgers, pork burgers, cedar plank burgers, Mexican burgers and just about every type of cheese or international cuisine burger!
Going Back to the Basics
The Building Blocks of a Great Burger
Literally, I have decided you can put absolutely any ingredient on a grilled ground beef (pork, chicken, turkey, fish, vegetable or bean) patty and custom make a burger. The possibilities are endless. Because the possibilities are endless, the amount restaurants are charging for burgers is as low as $.99 to hundreds of dollars.
Grilling hamburgers is a great quick family dinner and since there are so many forms of burgers everyone can enjoy one!
I decided to go back to the basics and provide a few simple ways to grill burgers, but explain the important steps to make a great burger that is juicy, delicious and flavorful. This way you have the basics to make the best burger that is right for everyone in your family!

BACK TO BASIC CHEESEBURGER
Makes: 2-8 ounce burgers
Number of Ingredients: 11 (some optional)
Recipe by: Chef Paulette Bilsky
INGREDIENTS
16 ounces 85/15 ground chuck
4 teaspoons coarse Kosher salt
juice of 1/2 of 1 lemon
1 egg beaten (optional)
1 tablespoon Worcestershire Sauce (optional)
1 small chopped sweet onion (optional)
2 large slices of onion
4 slices American (or your favorite) cheese
Buttered bun
Spinach leaves
Burger condiments of your liking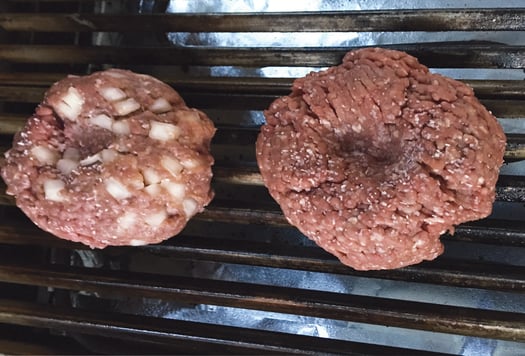 PRO TIP 1: I made one burger with all the ingredients and one burger with just the ground chuck and Kosher salt. The cook time was exactly the same and both burgers were delicious. The burger with the optional ingredients had a little more flavor, but I felt the extra ingredients could have been omitted and you would still have a delicious "basic" burger.

PRO TIP 2: The most important part of making a flavorful and juicy burger is to handle the meat as little as possible – the more you work it, the tougher the finished burger will be. When making the patty, gently shape the ground beef (don't firmly press the patty together) into burgers about ¾ inch thick. Use your thumb to make a small depression in the center of each patty to prevent swelling while grilling hamburgers. This small tip will make for an amazing burger.
METHOD
In a small bowl, combine egg, Worcestershire Sauce and sweet onions. Whisk together with a fork.
Break up ground chuck with your hands into mixture and follow instructions above in the Pro Tip 2.
Squeeze lemon juice on each side of the patty.
Sprinkle each side of the burgers with a 1/4 teaspoon of Kosher salt.
Spray your ElectriChef grill grates with Canola oil then preheat your Electric Grill to 550°F.
While the grill is preheating, place your burgers on the grill. Wait 3-4 minutes after grill reaches 550°F to turn burgers.
Add sliced onion to grill.


PRO TIP: By starting burgers while the grill is preheating, it helps prevent flare-ups. and grills burger slowly. Once grill reaches temperature, the turned patty will begin to char and remain juicy. Flame flare-ups will possibly occur if you use a 75/25 ground chuck or place patty on a high-temperature grill.
After 3-4 minutes (less time for rare or medium-rare burgers) add cheese to the top of burgers and buttered sesame buns to grill.
After a minute or so (it does not take long) remove buns and cheeseburgers from grill and serve with spinach leaves, tomato, grilled onion or your favorite condiments.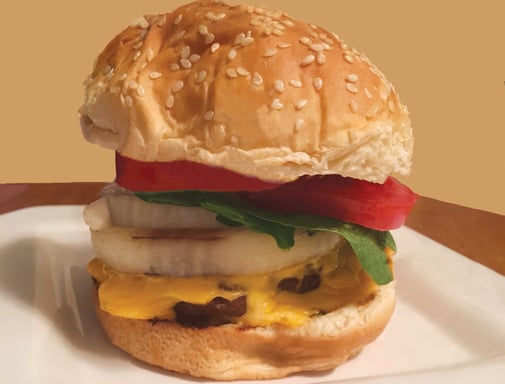 What's Next?
Looking for s'more backyard grilling recipes? Try out this mouth watering Chicken Kebab recipe!