The summer months have flown by again! The only good reason for September to have arrived so quickly is the beginning of the football season and the opportunity to "wing it" on the grill!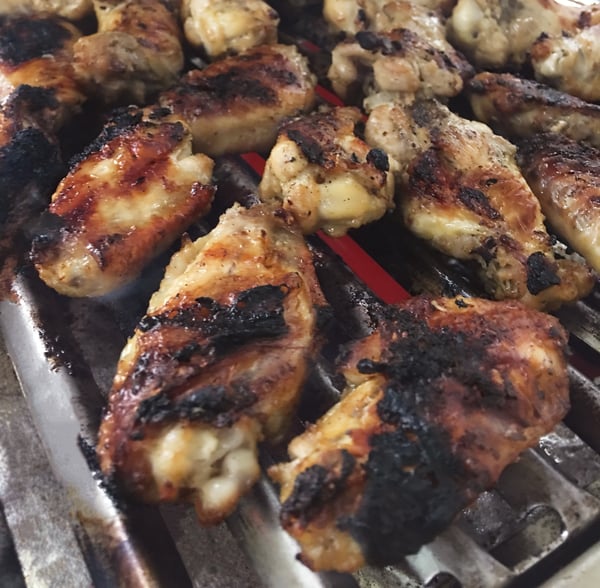 Football and chicken wings are an American tradition. Most wings are actually consumed during the Super Bowl, but I think it is important to practice the "art of wing grilling" for a few months before the big event. So with the beginning of the football season, I break out the fantastic and flavorful honey garlic wings recipe and head out to the grill.
Why do so many people "Wing It?"

Most people believe the only way to eat a chicken wing is fried and smothered with "Buffalo" sauce. On top of that, they go on to believe it is a southern tradition. This tradition originated in 1964 at the Anchor Bar in Buffalo, New York, definitely not a southern area.
The wing craze began and has been a "hot" commodity ever since. So hot in fact , the actual number of wing portions sold is over 25 billion (most wings are sold as two pieces: the "drumette*" and the "flat*", the third piece, the "flapper*" is usually removed and not eaten).
Why do so many people eat them? Simple, they are delicious and flavorful due to the high fat content (mostly skin), the meat is very tender, and finally, wings and beer are an American sporting tradition! Need I say more?
The Wings of Today
Today, grocery stores actually sell wings either in whole pieces or, to make it easier on the consumer, they separate the wings and raise the price per pound so the home cook can save time! The price of wings has increased so high because the demand in the restaurant chains has caused a wing shortage. Remember, only two wings per chicken.
Restaurants actually start stocking up on wings in the fourth quarter of the year (September - December) just to have enough wings for the Super Bowl Weekend Festivities. The art of winging it is bigger than most people realize.
There are hundreds of articles and blogs about "The Proper Way to Eat a Chicken Wing." Even one of my favorite people in history, Winston Churchill once said, "We shall escape the absurdity of growing a whole chicken in order to eat the breast and wing, by growing these parts separately under a suitable medium." I have come to realize the chicken wing business is basically out of control.
I "Wing It" on the Grill!
Since attending culinary school at Johnson & Wales in North Miami Beach, Florida, I realized I wanted no part of deep frying ANYTHING, because the task of cleaning up the oil was not a practice I want or care to ever need to perfect. I immediately created an easy and flavorful way to cook chicken wings on my ElectriChef Grill.
My recipe requires very little prep and the cooking time is about 30 - 40 minutes from start to finish. Because it is so easy to buy wings cut up and separated in drumettes and flats, I spend the extra money and save lots of time and clean up.
My grilled honey garlic wings recipe below is marinated in a garlic paste and grilled to perfection then drizzled with a bit of honey. They are not hot in flavor, but I can assure you they are a hot commodity at my house!

GRILLED HONEY GARLIC WINGS
Recipe by: Chef Paulette Bilsky
Makes: 20 wing pieces
Number of Ingredients: 6


INGREDIENTS
10 whole chicken wings, cut into drumettes and flats. Flappers discarded
4 garlic cloves, pureed or made into paste
3 tablespoons canola oil
2 tablespoons kosher salt
1 tablespoon ground poultry seasoning
1 1/2-2 ounces honey
METHOD
Sprinkle all the pieces of wing evenly with kosher salt and poultry seasoning.


Place wings and garlic paste into a gallon-size resealable plastic bag.


PRO TIP: To create the Garlic Paste, peel the garlic cloves and slice into small pieces, sprinkle with a small amount of salt and use the back of your knife to smash garlic slices into a smooth paste. The abrasion of the salt will help to break down the garlic and make it smooth. You can also put garlic cloves and a little canola oil into a small food processor a pulse all ingredients until you have a paste.
Add canola oil to bag with wings, press bag to remove air and reseal.


Gently move the oil and wings around inside the bag so oil and garlic are evenly distributed on all wing pieces.


Spray your ElectriChef grill grates with Canola oil then preheat your Electric Grill to 350°F.


Place wings on grill, spreading them out evenly on grill grates. Close grill lid for 5-6 minutes.


Using tongs, turn wings to other side and close grill lid again for 5-6 more minutes.


After the second 5-6 minutes, increase the temperature of your ElectriChef grill to 550°F. Close grill lid for another 5-6 minutes.


PRO TIP: The reason you start your grill at a lower temperature in the beginning is to allow the wings to slowly cook. This way the wings will cook all the way to the bone without over charring.
Turn wings again and repeat this process 2 more times, moving wings around grill to distribute less cooked wings to hotter areas of the ElectriChef grill.


Insert a thermometer into a thick portion of one of the drumettes to make sure wings have reached 165°F.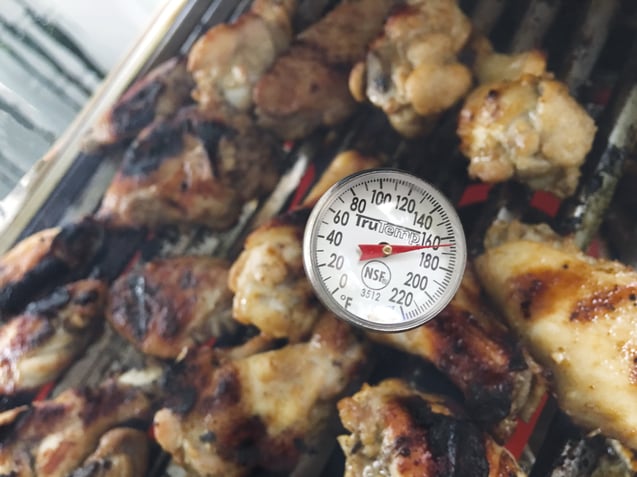 The entire time on grill should be about 30 minutes. If wings are smaller or larger please use the thermometer to adjust your time.


NOTE: Because wings have a high fat content, please be sure to line your drip tray with aluminum foil for easy clean up. Also, your ElectriChef Grill may begin to smoke and have small flare ups. Open lid and move wings around to prevent over charring.
(*)Chef Paulette Vocabulary:
Drumette: The portion of the wing that's attached to the main part of the chicken. It is supposedly called the drumette because it's shaped like the larger chicken drumstick. There's one main piece of bone in the middle, but there are some joints and cartilage on both ends.
Flat: The middle part of the wing is called the flat. There are two thin bones that run parallel to each other down the length of the flat, and it has tender dark meat and is completely covered with skin.
Flapper: The end part of the wing shaped like a feather at the end, completely skin and bone. This portion is usually discarded.What's Next? Want to try your hand at another grill recipe? Try making these American classic grilled hamburgers!
What's Next?
Want to try your hand at another grill recipe? Try making these American classic grilled hamburgers!