"Farm to Table" recipes now become "Farm to Grill"! Prepare vegetarian meals, salads and side dishes on your ElectriChef electric grill this spring using fresh vegetables.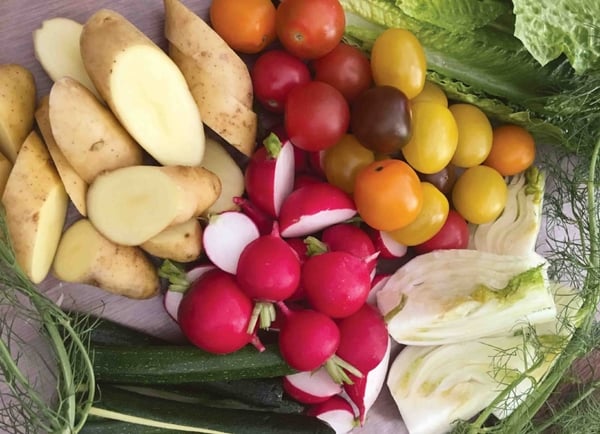 Introducing farm fresh spring vegetables to your outdoor BBQ is as simple as visiting your local farmer's market or joining a local CSA farm program.* "Farm to Table recipes" have become a national craze, because Doctors, Nutritionists, and Chefs throughout the country have educated the consumer about the importance of eating fresh, locally sourced vegetables.
The consensus is: the sooner you prepare a fresh vegetable after it is sourced, the higher the nutritious value it will have when served to your family. . .
We all know the season drives the local market vegetable selection. But, can you really grill fennel, radishes, and other spring vegetables? What fresh vegetables other than our favorite, corn on the cob, asparagus or bell pepper can you grill? As a private chef, I am asked this question all the time! Romaine lettuce, fennel, tomatoes, radishes (who knew!!!) and sweet onions are a just a few nutritious and delicious spring vegetable choices you can prepare on your outdoor ElectriChef outdoor grill.
Most of us have thrown a bunch of asparagus on the grill but then had to run to the kitchen to make the salad or other side dishes. With a little prep, you can have some of the best grilling experiences preparing seasonal grilled vegetables straight from the farm, to the grill, to the table and stay right in the backyard with your family and friends. Remember to grill happy and grill vegetables!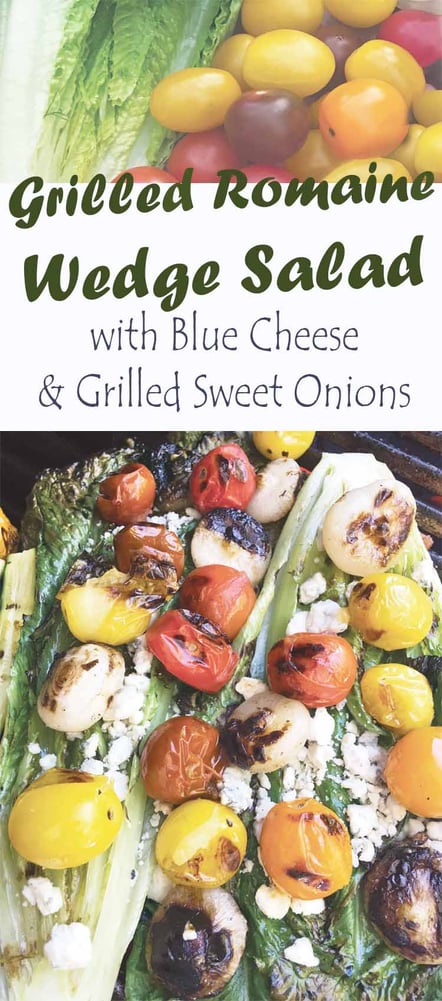 GRILLED ROMAINE WEDGE SALAD WITH BLUE CHEESE & GRILLED SWEET ONIONS
By: Chef Paulette Bilsky
Serving Size: 4
INGREDIENTS
4 hearts of romaine, remove a few outer leaves and set aside for another time
1-2 tablespoons olive oil
kosher salt & pepper
8 ounces Blue Cheese (crumbled)
2 large Sweet Onions, outer skin removed
Balsamic Glaze
METHOD
• Spray grates with Canola oil then preheat your Outdoor Electric Grill to 500°F.
• Remove Blue Cheese from the refrigerator so it can become room temperature.
• Cut romaine hearts in half (long ways), leaving the root ball intact.
• Slice the sweet onions in 1/4 inch slices and do not separate the rings.
PRO TIP: Leaving the root ball* will allow the romaine heart to remain intact during the grilling process.
• Using a basting brush, brush each side of the sweet onions with olive oil and place them on the grill for 6-7 minutes on each side or until you have nice grill marks on either side.
• Use the remaining olive oil, lightly brush each side of the romaine heart.
• Sprinkle each heart with salt & pepper to your liking.
• Once you have turned the sweet onions on the grill the first time, place the romaine halves on the grill for 3-4 minutes on each side. We just want to lightly sear the outside of the romaine so it's lightly seared, but not burnt.
• Immediately remove grilled romaine hearts to a serving platter crisscrossing the hearts.
• Sprinkle the grilled romaine wedge with crumbled blue cheese.
• Remove sweet onions to a cutting board and rough chop and place over blue cheese. Drizzle wedge with Balsamic glaze and serve.
PRO TIP: If you want to add color to your salad, add a few yellow and red grape tomatoes or halved radishes with a brush of olive oil on the grill when you are grilling the onions. You will begin to see the tomatoes blister and the radishes char in about the same time it takes the onions to grill. You can add them around the romaine hearts when serving.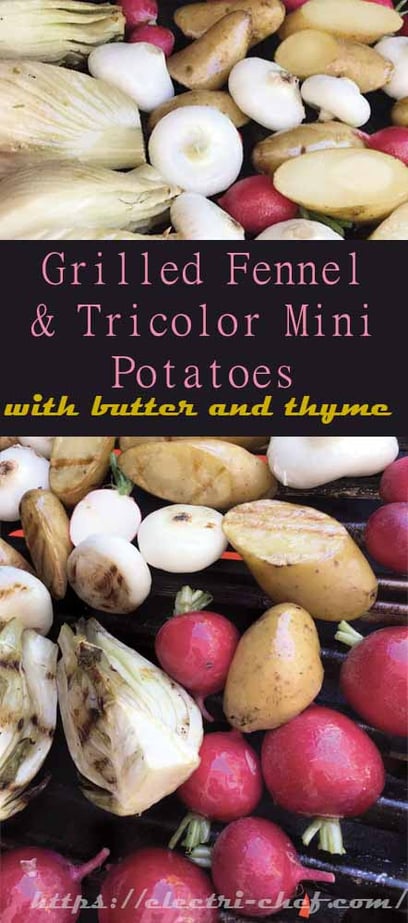 GRILLED FENNEL & TRICOLOR MINI POTATOES WITH BUTTER AND THYME
By: Chef Paulette Bilsky
Serving Size: 4
INGREDIENTS
2 fennel heads
16-18 tri-color mini potatoes
1 tablespoon olive oil
4 sprigs of thyme
salt and pepper
3 tablespoons of high-fat real butter
METHOD
• Spray grates with Canola oil then preheat your ElectriChef Electric Grill to 500°F.


• Clean and cut fennel bulbs in quarters through root head and place in medium size bowl. Wash potatoes and pat dry and add to a bowl.

• Toss fennel and potatoes with olive oil, the leaves from half of the thyme, salt, and pepper. Place contents of the bowl on the grill for 20-25 minutes, turning occasionally or until potatoes are fork tender*.

• Remove from grill and place on a serving platter, add butter and remaining thyme.

PRO TIP: To clean fennel, carefully cut about 1 inch above the fennel bulb to remove the stalks. Stalks can be used for garnish and should be placed in water to keep fresh.
Chef Paulette Bilsky - Cooking Terms:
CSA Farm Program: Community Supported Agriculture
Root Ball: The mass formed at the bottom of a plant or vegetable, when left intact it will hold the vegetable together. Examples: Celery, fennel, lettuce.
Tricolor Mini Potatoes: Miniature red, purple and white skinned potatoes. Usually no bigger than a quarter or a nickel.
Fork Tender: When you can insert a sharp utensil into the center of a potato or vegetable and encounter very little resistance.
What's Next? Check out this delicious recipe that pairs very nicely with the Grilled Romaine Wedge Salad for a great dinner!