Every year right after my Birthday, I get in my car and head to Northeast Harbor, Maine. Everybody cringes when I tell them it takes 30 hours door to door! I only smile and quickly explain that I always look forward to visiting special friends and experiencing interesting adventures along the way. 30 hours of driving goes by fast when you are having fun!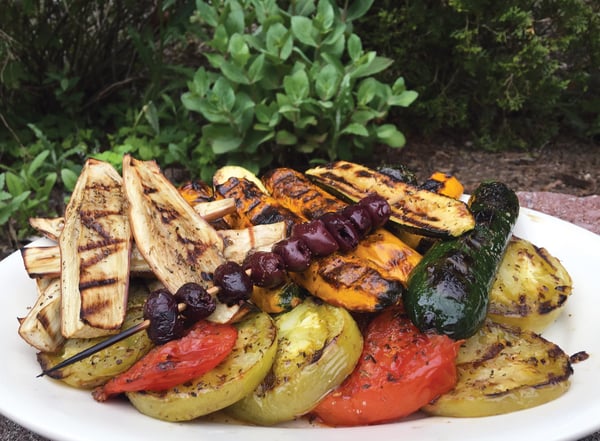 A Roadtrip was Born
This year, I had the great pleasure of my Darling Steve accompanying me on this trip. His roots are from the beautiful island of Cyprus, and with 30 hours in the car together, our conversations drifted towards our past trips to his homeland.
Immediately we began speaking of the food from this beautiful island in the Mediterranean Sea. Every morning when we were there, we would go to the local farmer's market and buy beautiful, colorful vegetables and enjoy them for lunch and dinner. Right then and there I decided our fate: visit as many Farmer's Markets as we could throughout this road trip!
What better place to start than South Carolina? I LOVE SOUTH CAROLINA!! We decided to break up the trip and stay for a couple of days. The first day there, we went to a Peach Festival. In my opinion, they have the best peaches ever! Sorry, Georgia. . . Next, we went to the South Carolina (Columbia) Farmer's Market. Here we bought lavender colored eggplant, summer squash, zucchini, red tomatoes, green tomatoes, and onions. Each variety was more colorful and beautiful than the next.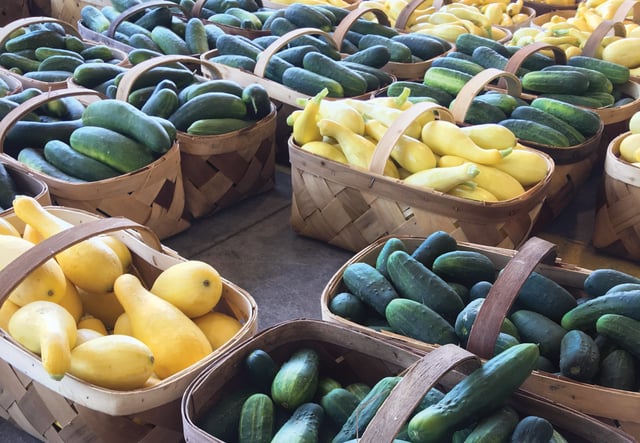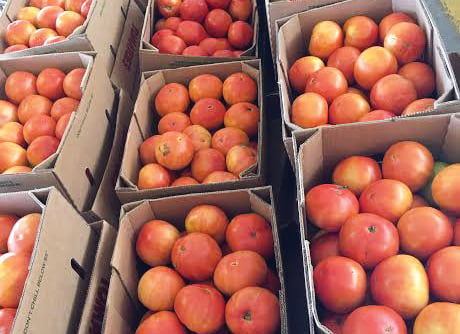 Steve felt like he was back in Cyprus because he remembers his mother picking all types of vegetables when they were small and tender. We had such a great time taking pictures and trying the different produce.
Fun Fact: Did you know South Carolina has agriculture sales over $2.9 billion dollars a year?
After leaving S.C., we visited other towns and farmer's markets. I started thinking about my blog. I had a car full of the most delicious summer vegetables, what would my recipe be? GOT IT! A great recipe from Cyprus with an Electric Grilling twist. Now I'm happily writing my blog and Steve can relive the flavors of his homeland.
The Electric Grilling Twist...
Didn't See That Coming
An amazing feature, found only on the ElectriChef Electric Grill, is that you can steam as well as grill! Vegetables can be prepared from the moment you turn on the grill and you don't waste any energy. The clean source of heat (no fumes from charcoal or gas) only enhances the sweetness of the grilled vegetables.
Grilled Eggplant Caponata with Summer Vegetables is a perfect way to create a recipe featuring Cypriot flavors and a great way to enhance a summertime BBQ menu. The recipe is vegetarian, gluten-free and paleo! But most of all, it will be the most delicious grilled vegetables you ever ate off your grill. Guaranteed!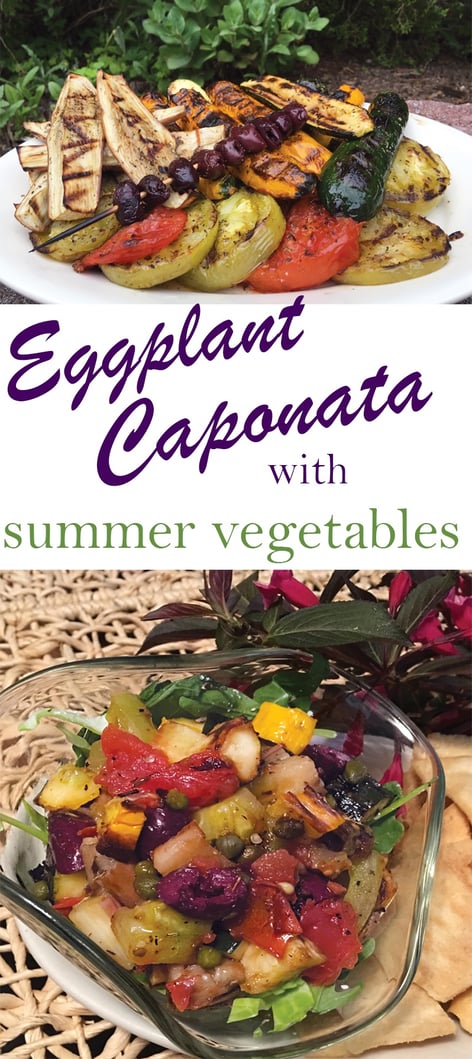 GRILLED EGGPLANT CAPONATA WITH SUMMER VEGETABLES

Makes approximately: 4-5
Number of Ingredients: 18
Recipe by: Chef Paulette Bilsky

INGREDIENTS
2 small eggplant, stem removed, cut in half lengthwise
2 small summer squash, stem removed, cut in half lengthwise
2 small zucchini, stem removed, cut in half lengthwise
2 medium firm green tomatoes, sliced in 1/2 inch slices (optional)
2 medium firm red tomatoes, sliced in 1/2 inch slices
10-12 pitted kalamata olives
1 tablespoon capers, drained and rinsed
1 tablespoon dried Italian seasoning
1/2 teaspoon dried or fresh mint
2 teaspoons salt
2 garlic cloves, minced or pureed
2 tablespoons fresh lemon juice
3 tablespoons olive oil
2 tablespoons red wine vinegar (white vinegar can be substituted)
1 teaspoon black pepper
hot sauce or red pepper flakes to taste (optional)
1 cup warm water
1 wooden skewer, soak in water
METHOD
• Place Italian seasoning, salt, and dried mint in a small bowl and mix ("seasoning").
NOTE: If using fresh mint, add to caponata when adding lemon & olive oil.
• Turn on your ElectriChef Electric Grill to 500°F, carefully pour water into the drip tray. Spray your ElectriChef grill grates with Canola oil.
• Immediately, before grill preheats, place eggplant, squash, zucchini, and tomatoes ("vegetables") flesh side down. Do not baste vegetables, sprinkle seasoning on top of skin side of vegetables and allow them to steam with water and the heat of the Electric grill while preheating, about 15 minutes.
PRO TIP: I do not peel my eggplant. The skin of most vegetables and fruit pack the most nutritional benefit in the skin. The skin of the eggplant, especially when it is a small size, has a powerful antioxidant called nasunin, one of a type of flavonoid called anthocyanins present in many fruits and vegetables with red, blue and purple hues. Choose the purple varieties when you shop, and leave the skin on.
• Once water has heated up and the steam is gone, the vegetables will appear to have small droplets of water on them. This is the natural moisture from the vegetable. The grill will now begin to char this moisture on the vegetables. Continue to grill on 500°F for about 10 minutes or until tender, turning once. Remember to sprinkle seasoning on flesh side after turning. Place olives on skewer on grill.
PRO TIP: Vegetables, especially the eggplant may appear dry, don't worry, the eggplant seals itself and it will be juicy and tender once off the grill.
• Remove all vegetables and olives from the grill and cut into small pieces (or desired size), add rinsed caper, lemon juice, olive oil, vinegar, pepper and fresh mint if using.
• Mixed together gently and serve over arugula or spring mix.
NOTE: Many people will use a caponata as a dip: add crackers or grilled baguette as an accompaniment. You can even use this as a vegetarian sauce for pasta.
What's Next?
Let us know how your backyard cookouts are going this summer! If you want another delicious summer recipe checkout this tasty meal with a paleo twist!