Outdoor Electric Grilling with Butter & Chocolate. . .Oh, and of course, a great cut of outside grilled skirt steak!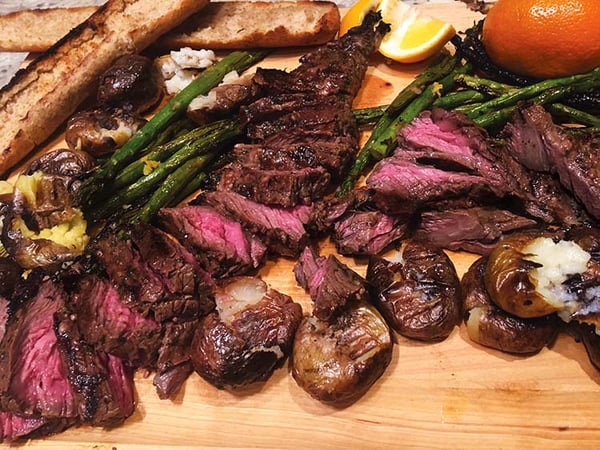 Written by, Chef Paulette Bilsky
Yes, it is true that you can grill with butter and chocolate! The best way to do this is to start off with an amazing and flavorful cut of meat. Some gourmet grillers have never heard of my favorite cut of beef, the outside skirt*¹ steak. Chefs have always debated which of the long thin steaks are the most flavorful – inside or outside skirt or just the traditional flap (flank) steak.
This is a debate better discussed during long winter nights since everyone has their pros and cons. In my opinion, the outside skirt, when available, is the best choice. The outside skirt has an intense beefy flavor and is lean.
Another reason I choose this cut is for its versatility. The skirt steak, when grilled on an ElectriChef electric outdoor grill with a safety temperature control feature, can be grilled with temperature choices from rare to well done in each steak! You may have to ask your butcher for this cut, but it's worth the extra effort . . . especially if you are going to add BUTTER and CHOCOLATE after grilling.
Compound Butter
Have you ever wondered why the steak you grill in your backyard does not taste like the $40 steak at the local steak house? The reason is simple: compound butter*². Butter (real butter, not margarine) adds the final touch to any meat or vegetable right off the grill. I have created several compound butter recipes over the years and always have 2-3 choices readily available in my freezer. Banana chocolate butter has turned out to be one of my Private Client's favorites. Why? The consensus is: everything tastes better with BUTTER and CHOCOLATE on top.
A touch of agave nectar adds a hint of sweetness, and a cacao*³ chocolate brings out the earthy tones in the grilled steak. The combination of these flavors, with real butter, will allow you to experience the $40 steakhouse flavor right in your own home!

GRILLED SKIRT STEAK WITH CHOCOLATE BANANA COMPOUND BUTTER RECIPE
By: Chef Paulette Bilsky
Serving Size: 2-4
CHOLCOLATE BANANA COMPOUND BUTTER
6 oz. European Style Butter (high milk fat)
1/2 of one ripe banana
1 tablespoon agave nectar or honey
1 clove minced garlic or 1 teaspoon granulated garlic
1/4 cup unsweetened Cacao Powder
METHOD
Place first 4 ingredients into a food processor and blend.


PRO TIP: if you don't have a food processor, use the back of a fork and mash all ingredients together
Using a spatula, place the butter mixture onto a large piece of plastic wrap and shape it into a log, wrapping it tightly and seal both ends.
Place butter log in freezer and it will solidify (about 2 hours).
Remove butter log from freezer and carefully take off the plastic wrap.
Sprinkle cacao powder on butter log and rewrap in plastic.
Cut 3-4 slices from butter log about a ½ inch thick.
Set butter slices in refrigerator to use on grilled skirt steak and place remaining butter log in freezer for further use.


PRO TIP: To keep compound butter fresh, place wrapped butter log in a plastic freezer bag or a freezer safe plastic container. Remember to write the type of butter log on the exterior!
OUTSIDE GRILLED SKIRT STEAK RECIPE
INGREDIENTS
1 pound outside skirt steak (Inside skirt can be used as a substitute)
Kosher salt & pepper to season
3 tablespoons olive oil
4 garlic cloves, chopped
¼ cup chopped basil or parsley
¼ cup fresh lemon juice


PRO TIP: You can replace last 4 ingredients and use store bought chimichurri sauce*⁴ to save time. Also, if you increase the last 4 ingredient amounts, you can reserve extra marinade in a glass container in the refrigerator for future use.
PREP
Season skirt steak to your desired taste with salt & pepper, place all ingredients into a large zip lock bag 1 hour before grilling and refrigerate. Remove from refrigerator and allow skirt steak to become room temperature before grilling (about 1 hour).
Spray grates with Canola oil then preheat ElectriChef's Electric Grill to 500°F.
METHOD
Pat skirt steak dry with paper towels and place on electric grill.
Close lid and do not open for 4-5 minutes.
Open lid and flip skirt steak and sear for another 3-4 minutes.
Open lid and place a slice of banana butter on top of skirt steak, turn off your electric outdoor grill and once butter has started to melt, place on a cutting board to rest. The skirt steak will be cooked to medium-rare temperature 140˚F, but reduce or increase cooking time depending on your desired doneness.


PRO TIP: Each cut of the grilled skirt steak varies in size. The cut tends to start wide and become thinner. Be sure to consider the size of the steak and check temperatures in the thickest part of the steak. In one piece of skirt, you can have medium rare to well done in each piece. (This can be a crowd pleaser!) Wait 5-10 minutes, slice against the grain and serve.
Chef Paulette Bilsky - Cooking Terms:
Outside skirt*¹: A long thin cut of beef from the boneless portion of the cow's diaphragm. There are only two outside skirts per cow thus making this cut a bit more expensive. Inside skirt or flap steak can be substituted.
Compound Butter*²: A mixture of butter and varying ingredients. Primarily, they are used to enhance flavor in finished dishes. A compound butter can be considered a sauce.
Cacao*³: The purest form of chocolate you can consume and is thought to be one of the highest sources of antioxidants of all foods. It is high in magnesium. Cacao is different from cocoa in taste, nutrition, and cost. Cocoa is what you typically buy at the store in the form of cocoa powder.
Chimichurri*⁴: An uncooked sauce used for grilled meat. It can be made in a green version (chimichurri verde) or a red version (chimichurri rojo), with the origin purported to be from Argentina. Ingredients can include chopped parsley, garlic, vegetable oil, oregano, and white vinegar. It can be used as a sauce or marinade.
What Next?
Find out more helpful tips that are good to know for whatever you have on the grill tonight!