This is a super simple and delicious way to un-boring grilled zucchini. You'll need ½ a zucchini for each person you are serving.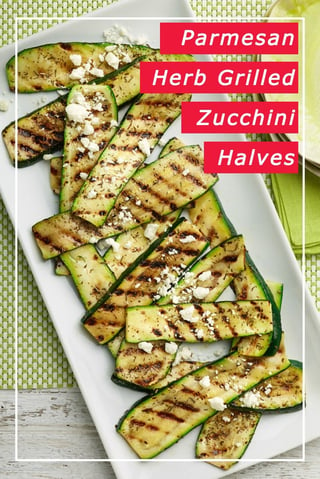 Parmesean Herb Grilled Zucchini Halves REcipe
1. Slice the zucchinis in half lengthwise and score the cut side lightly with a knife.
2. Brush the halves with olive oil and let it absorb (about ½ teaspoon each half).
3. Sprinkle with dried Italian herbs (thyme, rosemary, oregano – whatever you have in the spice cupboard)
4. Sprinkle with freshly grated Parmesan cheese (use the finest grater, about 1 tablespoon per half).
5. Lightly press the Parmesan cheese so it sticks to the zucchini and then grill, cut side down at 350° for 7—10 minutes.
6. Turn and grill for another 4—5 minutes, being carefully not to burn the skin.
7. Season very lightly with a little salt and pepper and serve.
What's Next? Enjoyed this grilled zucchini recipe? Try pairing it with this fantastic Porterhouse Steak recipe! Don't forget to let us know what you think about the recipe in the comments!