Mother's Day can be a very difficult time for Dad and the kids! What do you plan for the women who have always made life at home just a little bit easier for everyone? A beautiful lunch/dinner on the grill from entree to dessert, and don't forget to include a thoughtful pampering gift and fresh flowers!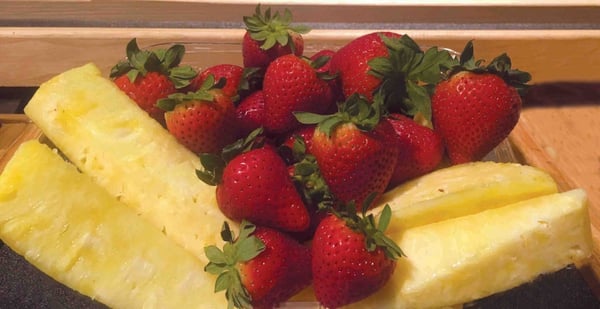 Here are my thoughts on a great way to plan Mother's Day!
1. Do not make reservations anywhere! After Valentine's Day, I cannot think of a less fun time to eat out.
2. Look at your old credit card bills and find a luxury item mom enjoys and buy a gift certificate for her! Or get her a gift certificate for her specialty coffee or tea shop.
3. Plan with the kids to have a seasonal and light lunch/dinner at home on the grill! This is where I come in handy…a fool proof Mother's Day recipes and menu are here!
MOTHER'S DAY RECIPES & MENU
Grilled Citrus Shrimp and Scallops
Fresh Strawberries and Grilled Pineapple over Angel Food Cake
*(recipe available on previous blog)
PLANNING & SHOPPING:
Dads, have the children make a shopping list and help you at the grocery store.
PREPPING:
Children can assist in the prepping process (see the steps in blue to include them).
GRILLING:
This is Dad's job!
SERVING & EATING:
Have the children make place-mats (Happy Mother's Day Cards) for the table and include some fresh flowers. Serve family style* and everyone enjoy!
CLEAN-UP:
While Mom relaxes, children load the dishwasher!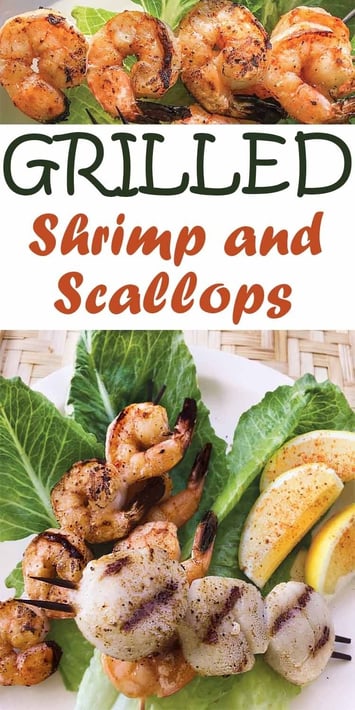 GRILLED CITRUS SHRIMP AND SCALLOPS
By: Chef Paulette Bilsky
Serving size: 4
Prep Time: 10 minutes, 8 ingredients

INGREDIENTS
16 raw Jumbo Shrimp (16/20 count*) cleaned and deveined at market
12 (about a 1/2 pound) raw Sea Scallops
2 fresh Lemons
2 tablespoons Vegetable Oil
1 teaspoon of Old Bay Seasoning*
5-6 Fresh Parsley Sprigs
Wooden skewers
Canola non-stick spray
PRO TIP: Soak wooden skewers in a dish of water to help prevent excessive charring.
METHOD
Spray grill grates with Canola oil then preheat your ElectriChef Electric Grill to 500°F.
Butterfly shrimp by slicing almost through lengthwise, leave tail shell on, place 4 shrimp on each wooden skewer and sprinkle shrimp with vegetable oil andOld Bay Seasoning, set aside.
Place scallops on a dinner plate with a paper towel, pat dry each scallop, remove paper towel and sprinkle each scallop with vegetable oil andOld Bay Seasoning. Place 3 scallops on each wooden skewer, set aside.
Place shrimp and scallops on ElectriChef Electric Grill for about 2-3 minutes on each side, shrimp will begin to become pink and scallops will become opaque.
Place shrimp and scallops on a serving platter and squeeze 1/2 lemon over both. Add parsley sprigs and remaining lemon wedges.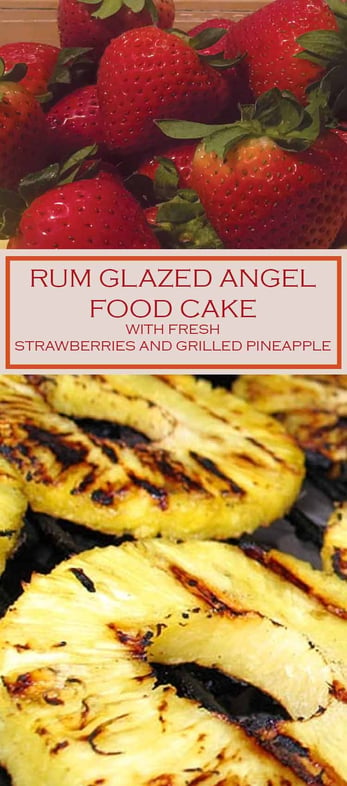 RUM GLAZED ANGEL FOOD CAKE WITH FRESH STRAWBERRIES AND GRILLED PINAPPLE
By Chef Paulette Bilsky
Serving Size: 5-7
Prep time: 20 minutes, 13 ingredients

INGREDIENTS
1 package of quartered or sliced pineapple
1 quart fresh strawberries, washed, stems removed and quartered
3 tablespoons agave nectar* or honey
1 tablespoon orange juice
1 teaspoon Cinnamon
1 Angel Food Cake (round with hole in the center)
Whipped Cream (optional)
Canola non-stick spray
RUM GLAZE
INGREDIENTS
1/2 cup unsalted butter
2/3 cup agave nectar or honey
1/4 cup water
1/2 cup dark rum or white rum (your choice)
1/2 teaspoon pure vanilla extract
METHOD
Spray grill grates with Canola oil then preheat your ElectriChef Electric Outdoor Grill to 500°F.
In a medium saucepan over medium heat, melt the butter, and then add the agave nectar, water, rum, and vanilla. Whisk until combined. (Note: You can do this in a saucepan on the grill)
Cook, stirring occasionally until all the ingredients have melted together. Reduce the heat and stir occasionally.
Remove pineapple from packaging and drizzle the agave nectar and orange juice on pineapple wedges, then sprinkle with cinnamon.
Place pineapple wedges on ElectriChef Electric Grill for about 5-7 minutes on each side.
PRO TIP: Make sure you watch your pineapple. You want it charred a little but not dried out.
Remove pineapple from the grill and place on a cutting board, rough chop pineapple into bite size pieces
Place pineapple and quartered strawberries in the middle of the Angel Food Cake and carefully drizzle fruit, Angel Food Cake with rum glaze.
Top with whipped cream (optional)
Serve immediately, Happy Mother's Day!
Chef Paulette Bilsky - Cooking Terms:
16/20 count: Shrimp are sold by size and the standard quantitative unit in the United States is count per pound. For instance, "16/20" denotes 16-20 shrimp per pound. This method is valid for fresh or frozen in the shell without the head on. For instance, "U16" means that the shrimp are large enough that less than 16 make up 1 pound.
Old Bay Seasoning: Old Bay Seasoning is a blend of herbs and spices that is marketed in the United States by McCormick & Company, and produced in Maryland.
Agave Nectar: Agave nectar is a sweetener commercially produced from several species of agave, also used to make tequila. Agave syrup is sweeter than honey and tends to be less thick. It has more or less 1/3 less calories than honey. Most agave syrup comes from Mexico.
What's Next?
Did you cook Mom Chef Paulette's delicious recipe? If so let us know how she liked it! If not, pick a day this week to cook for your Mom and try out this mouthwatering recipe!