A delicious and easy banana split sundae on the grill. The heat from the grilled bananas turns the ice cream and topping into a wonderful, gooey mess.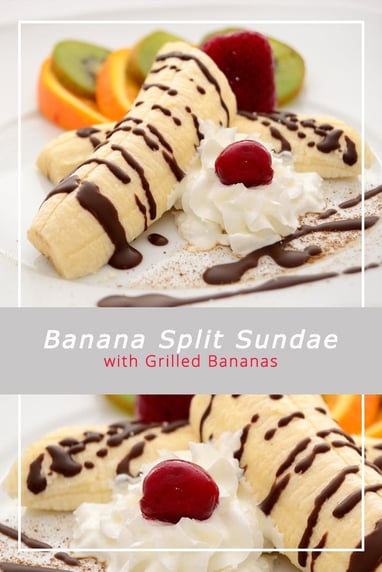 BANANA SPLIT WITH GRILLED BANANAS
Written by: Chef Paulette Bilsky
Size Serving: 4
INGREDIENTS
4 ripe bananas (yellow but no black spots)

1 quart of vanilla ice cream

¼ cup maple syrup

1 cup of hot fudge topping (store bought or home made)

Whipped cream (store bought or home made)

½ cup chopped walnuts (optional)

4 maraschino cherries
METHOD
Set the grill temperature to 400°. Halve the bananas lengthwise, leaving the peels on. Score the bananas lightly on the cut side and paint with maple syrup. Place them on the grill, cut-side down, for 3 to 4 minutes.
Remove bananas from the grill. Remove peels and place two halves in each of four soup dishes or ice cream bowls. Put two small scoops of vanilla ice cream between the banana halves, top with hot fudge, then whipped cream and walnuts (if desired.) Finish off with the cherries and enjoy!
What's Next? What goes better with a banana split sundae than a chocolate steak?! Check out Chef Paulette's delicious creation!