In the United States, I believe we take advantage of the abundance of sweet delicious apples. When we decide to eat an apple, the name and characteristics of a particular apple are probably unknown. I can honestly say, I never knew there were at least 58 varieties of apples! So many possibilities for grilled apples!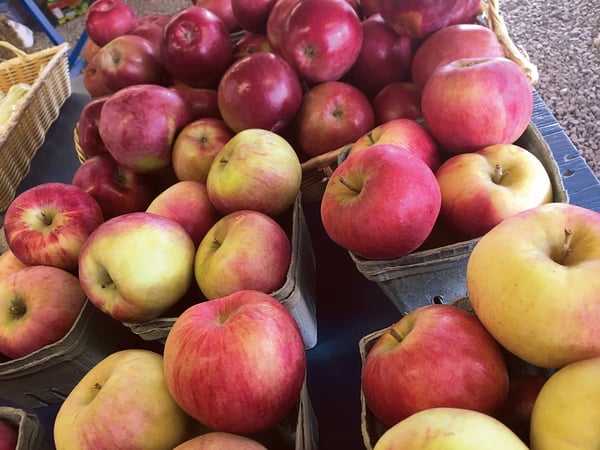 An Abundance of Apples

A Taste Test May Be Required
We are probably familiar with the common types of apples: Golden Delicious, Granny Smith, McIntosh, Red Delicious, Crab apples, and even the Gala Apple (my favorite to eat as a snack). During my adventures in Maine this fall, I discovered several lesser-known apple brands such as Cortland, Empire, Fortune, and Gingergold, just to name a few. However, my new favorite is an amazing apple variety with wonderful eating and cooking characteristics called Honeycrisp.
A Cooking Adventure
From the Orchard to Your Table
Cooking is not always just about the act of preparing food. Sourcing the food can be a rewarding part of the cooking journey as well. To start the fall off right, my goal was to get together with my most adventuresome friends, Nancy Rohan and Peggy Hobbs. Together we would take an expedition to start a new exciting fall tradition. The plan was simple: hit the Maine highway, pick our own apples at local farms and orchards, head to the grill to create new apple recipes, and end the journey by enjoying our delicious harvest!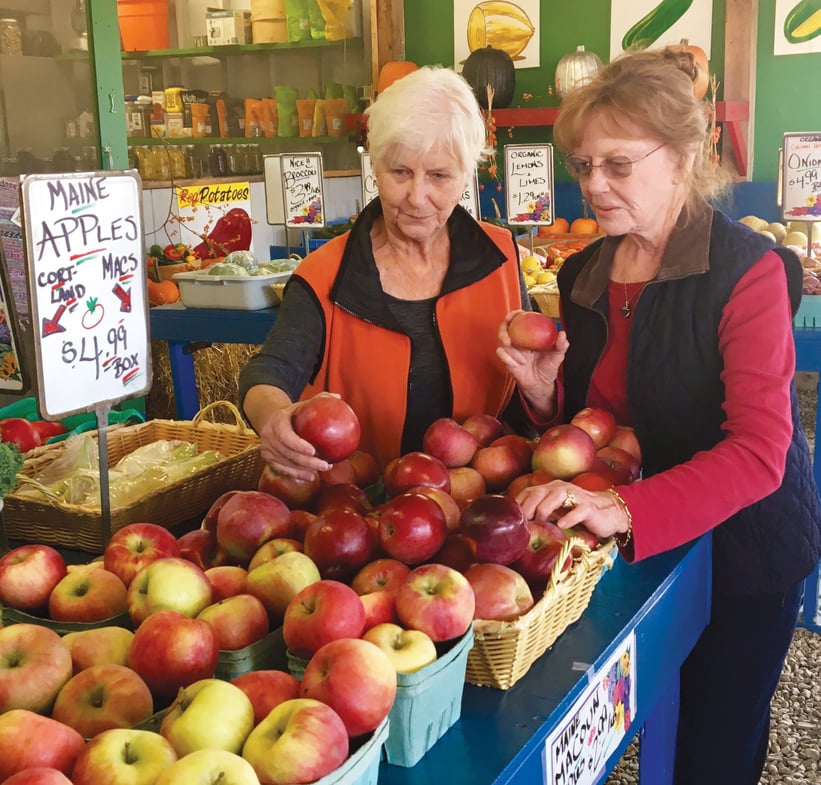 We were so enchanted by the beauty of the different apples along our route. The apples were plentiful and beautiful. There were just as many apples picked in bags at the farm stands as were dangling from the branches like individual pieces of art. Both Nan and Peggy began photographing the trees, while I began imagining the delicious recipes I could create on the grill back at home. I think the photographs are beautiful and thank them both for helping me catalog this new fall tradition.
They were rewarded with the following nutritious and delicious grilled apple recipes: Grilled Apples with Ginger Rosemary Pork Tenderloin and Grilled Jack Daniels Sugarcoated Apples with Almond Granola. Join in on my new fall tradition with me by trying out these newly found apple varieties and grilling up these recipes for your table!

GRILLED APPLES WITH GINGER ROSEMARY PORK TENDERLOIN
Makes approximately: 2-3 servings
Number of Ingredients: 14
Recipe by: Chef Paulette Bilsky

INGREDIENTS
1 pound pork tenderloin
1 Honeycrisp apple, cored and rough chopped
1 Cortland apple, cored and rough chopped
¾ pound Honey Gold Potatoes, washed and quartered
8 ounces ginger beer (non-alcoholic)
1 ½ teaspoon ground rosemary
1 fresh rosemary sprig for basting
1 tablespoon kosher salt
1 tablespoon granulated garlic
1 tablespoon onion powder
3 tablespoon unsalted butter, melted
2 tablespoon canola oil
Canola spray
Resealable plastic bag


NOTE: 1 sprig of finely chopped fresh rosemary, 1-2 minced fresh garlic cloves or 1 small chopped onion can be substituted for dried herbs.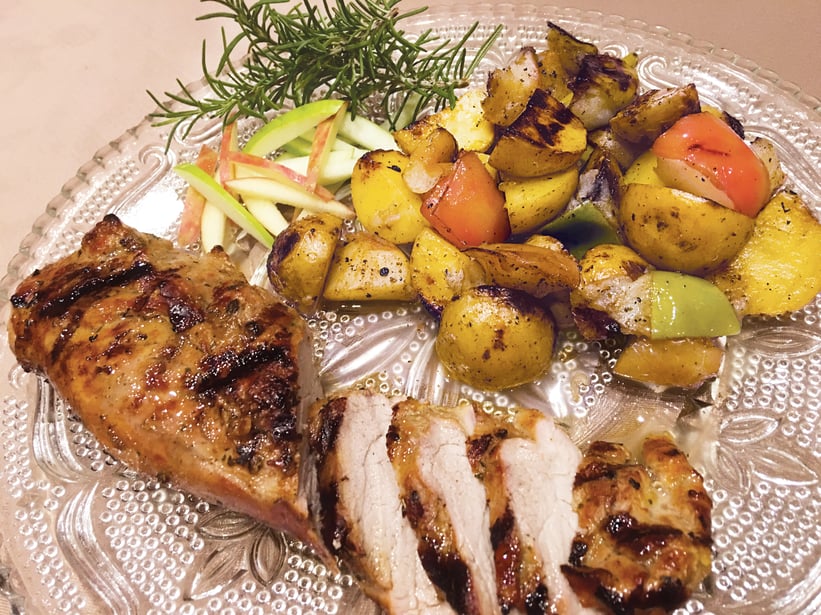 METHOD
Place the ginger beer and ½ the rosemary, garlic, onion, and salt into the resealable bag. Mix the ingredients in the bag and add the pork tenderloin. Gently rub marinade all over tenderloin, remove excess air from plastic bag, seal and let rest for 15-20 minutes. The tenderloin is already a flavorful tender cut, it will not take long to create more flavor.


Place potatoes and apple chunks in a bowl and add ½ the remaining rosemary, garlic, onion and salt and all the canola oil and toss gently.


Spray ElectriChef Grill grates with Canola oil then preheat the ElectriChef's Electric Grill to 550°F.


Once the grill has reached temperature remove tenderloin and place on the grill. Gently place the apple/potato mixture on the grill next to the tenderloin. Close lid for 6-7 minutes per side depending on thickness of tenderloin


Open grill lid and turn the tenderloin a quarter of the way and turn apple/potato mixture. Repeat turning 2 more times to make sure all sides of tubular tenderloin are fully grilled. Internal temperature should be 155°F.


Remove apple/potato mixture from the grill with tongs onto a serving plate.


Let tenderloin rest for 5-6 minutes and slice on a bias (diagonally) and place on the serving plate with the apples and potatoes. Pour drippings into melted butter.


Using a sprig of rosemary, baste everything on the serving dish with melted butter and serve.



JACK DANIELS SUGARCOATED GRILLED APPLES WITH ALMOND GRANOLA
Makes approximately: 3-4 servings
Number of Ingredients: 11

Recipe by: Chef Paulette Bilsky
INGREDIENTS
1 Honeycrisp apple, cored and sliced (½")
1 Cortland apple, cored and sliced (½")
8 ounces apple juice
1 ounce Jack Daniels, alcohol burns off on grill
3 tablespoons turbinado sugar or Sugar in the Raw
1 ½ teaspoon ground cinnamon
4 ounces of maple syrup
2 tablespoons unsalted butter
4 ounces almond granola, toasted
1 tablespoon kosher salt
3 tablespoon unsalted butter, melted
4 ounces maple syrup or honey
Optional: vanilla ice cream
METHOD
Pour apple juice and Jack Daniels into an oval bowl large enough for the sliced apple. Add apples and half of the salt and cinnamon, set aside.


In a measuring cup add maple syrup to butter and heat slowly in a microwave until melted, add remaining cinnamon and salt.


Spray ElectriChef Grill grates with Canola oil then preheat the ElectriChef's Electric Grill to 550°F.


Using tongs place apple slices on ElectriChef grill and close grill lid


NOTE: Be aware because of bourbon in apple juice, flare-ups can occur. The heat of the grill will burn off all alcohol.
After 10 minutes turn the grilled apple slices and sprinkle sugar on each slice and close grill lid for another 10 minutes.


Remove apple slices with a metal spatula and place in a shallow dish.


Sprinkle with almond granola, melted butter, and maple syrup.


Add vanilla ice cream to the dish to create an apple cobbler effect!