Jazz up your Memorial Day with this savory Grilled BBQ Chicken recipe topped off with a paleo friendly, Healthy BBQ sauce!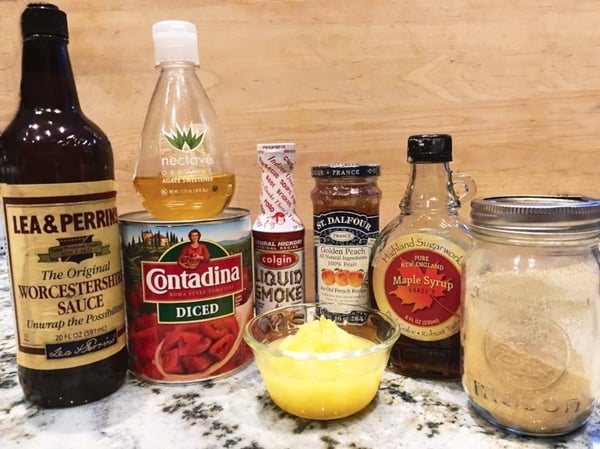 The Conflict.
Grilled BBQ chicken has always been a fan favorite as an easy and healthy BBQ recipe, but there has always been one debatable factor: White or dark?
Deciding which part of the chicken to grill is really a personal preference.
Statistics show most people prefer the breast or white meat 2 to 1, because of the health benefits and faster grilling time. For this BBQ Chicken recipe, I will be recommending boneless, skinless chicken thighs.
Many people have told me they dislike dark meat because of its "gamey" taste, but when I made this delicious grilled chicken recipe for my family, there was an overwhelming consensus: the thigh meat was very tender and flavorful.
PRO TIP: You can use any other part of the chicken; however, the recipe cooking time may vary. The internal temperature of all chicken should always be 170˚F.
Here's My Professional Opinion:
When properly prepared, chicken thighs provide a superior flavor on the grill and cook (when deboned) as quickly as breasts. There is less chance of the thigh meat drying out during the grilling process. As far as health information, white meat has fewer calories and fat grams but the differences are minimum. Dark meat offers more nutrients such as zinc, iron, vitamin B6, and B12, etc.
So, if you are interested in having a pleasurable meal from the grill, that is easy and full of nutrients and flavors – take my advice. . . go with the thigh meat!
PRO TIP: One benefit of boning the thighs yourself is that you can save the bones and use them for homemade chicken stock; also, most thigh meat is less expensive.
Phew!! Lots of information for an easy BBQ recipe, but I feel it was important to help you understand the dark and white meat conundrum.
It's All About the Sauce!
Prepare this delicious and healthy PALEO BBQ sauce first. Baste the chicken thigh with the BBQ sauce once both sides have been grilled (about 150˚F). Do not put the BBQ sauce on the chicken when it is raw, it will char before the chicken is at proper internal temperature.
PRO TIP: Pour about a ¼ cup of the BBQ sauce into a separate bowl so you do not cross contaminate* the entire container of sauce (this will prevent double dipping the basting brush from the sauce to the undercooked chicken and vice versa) keeping it safe for future use.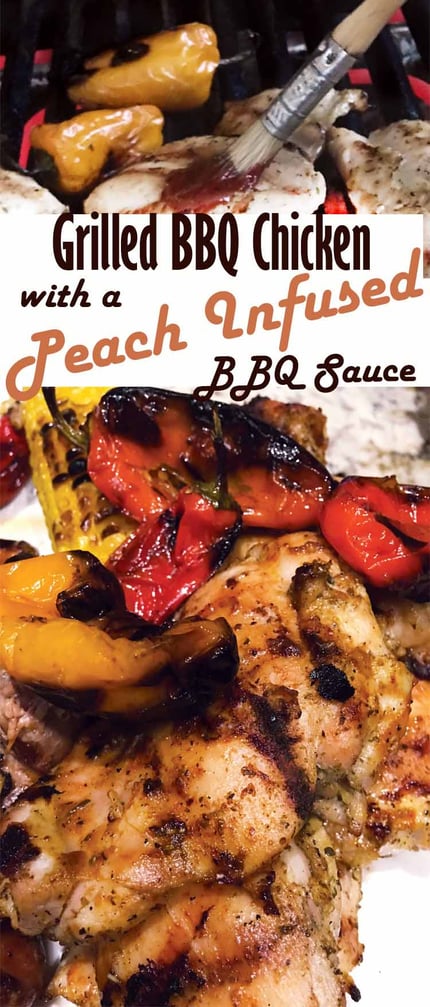 HOMEMADE PEACHY PALEO HEALTHY BBQ SAUCE
Makes approximately 2 ½ cups
Number of Ingredients: 13
Recipe by: Chef Paulette Bilsky
INGREDIENTS
8 ounces pureed or diced tomatoes
2 tablespoons tomato paste
½ cup apple cider vinegar
3 tablespoons agave nectar
2 tablespoons pure maple syrup (no high fructose corn syrup)
½ tablespoons garlic powder
1 teaspoon paprika
1 tablespoon Worcestershire Sauce
1 teaspoon liquid smoke (optional: you can substitute by adding a piece of raw smoked bacon to mixture & cook)
2 tablespoons lemon juice
4 ounces crushed pineapple
2 teaspoon peach preserves (no sugar added) or ½ chopped fresh peaches
Kosher salt to taste
METHOD
Place all ingredients in a saucepan over medium heat and stir until all ingredients are combined.
Taste occasionally and add more seasonings to your taste (hot sauce or chili powder can be added to spice up the sauce).
Bring mixture to a boil and reduce heat and simmer to thicken.
Pour all ingredients into a blender (once cooled) and puree (this is optional because you can leave the pieces of fruit for texture). Transfer sauce to a re-sealable jar and store in refrigerator for up to 2 weeks.
GRILLED BBQ CHICKEN THIGH RECIPE
Serving size: 4
Number of ingredients: 8
Recipe by: Chef Paulette Bilsky
INGREDIENTS
8 boneless, skinless chicken thighs, rinsed and patted dry
¼ cup fresh lemon juice
Kosher Salt and black pepper, to season
½ teaspoon granulated garlic
4 ounces crushed pineapple, fresh or canned
2 tablespoon canola oil
1 gallon sized re-closable plastic bag
¼ cup Homemade Peachy Paleo BBQ Sauce
METHOD
Place chicken thighs in plastic bag and add in your lemon juice, salt, pepper, garlic, pineapple, and canola oil.
Lightly squeezing the plastic bag, move all ingredients around until mixed together and all thighs are covered. Allow thighs to become just room temperature.
Spray your ElectriChef grill grates with Canola oil then preheat your Electric Grill to 500°F
Using tongs, remove thighs from plastic bag directly to your outdoor Electric grill. Cooking times will vary depending on size of thighs. I suggest about 10 minutes grilling time for smaller thighs and 12 minutes for larger thighs, turning them once after half the time, then applying BBQ sauce with a basting brush on each side. turning them once more.
PRO TIP: Please do not use the same plate or tongs with raw chicken as you used for the grilled chicken unless you wash them thoroughly.
During grilling, the thighs will appear to shrink in size but become thicker. Use a thermometer to ensure proper grilling temperature (170˚F) before removing from the grill.


PRO TIP: If you remove the chicken from the grill at 170˚F it will continue to cook and remain juicy. When checking the internal temperature of the chicken, insert the thermometer halfway into the thickest part of the chicken portion closest to the bone.
Chef Paulette Bilsky - Cooking Terms:
Cross Contamination *¹: How bacteria can spread. It occurs when juices from raw meats or germs from unclean objects touch cooked or ready-to-eat foods. By following a few simple steps as you handle, store, shop and cook foods, you can greatly reduce your risk of food poisoning. For more information, check out our source.
Looking for Healthy Side Dish Recipes?
What's Next? Sit back and enjoy your Memorial Day weekend. Don't forget to let us know in the comments what you thought about this yummy Grilled BBQ Chicken Recipe!