This blog is usually about the art of cooking but today I want to briefly discuss the art of living. We learn so many things in our life and many of the things we learn as children come from the lessons taught by our mothers. To this day my mother, Mary, tells me she helped me to develop my love of cooking. I guess it's about time to admit she could be right.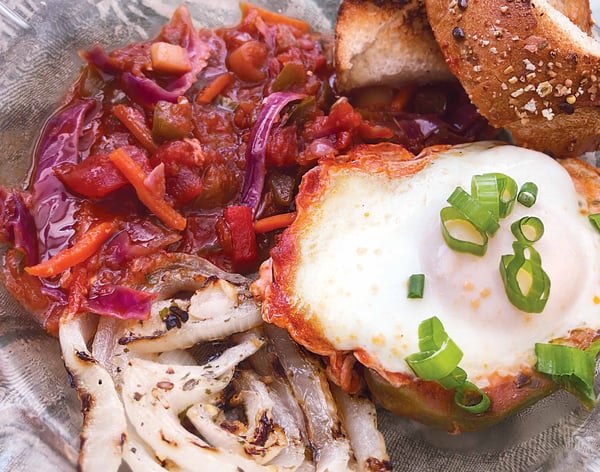 Inspiration Started in the Family Kitchen
Going back to my roots
On Sundays in my family, we had mandatory family dinners together, even through my years in college. It was a family day and since I was home, I would make my way into the kitchen and watch or assist my mother in the kitchen. Even when I was younger, I remember the preparation of dishes made from scratch. I feel blessed to have these experiences in the kitchen with my mother growing up.
Our meals were pretty traditional: salad, protein and a vegetable, and if there was company mom would make a wonderful dessert, called Strawberry Zabaglione. To this day when I discuss my cooking adventures with my mother, she reminds me of our days cooking in the kitchen. Ok, mom here it is, I would like to say: Thanks mom, I will concur you were one of the many important reasons I love to cook today! Happy Mother's Day! You make me think of this quote: "Mom, what I am today is because you helped me to be."
Spicing Up Mother's Day Brunch
Easy to make with a tasty twist
As I mentioned above, most of my childhood meals with my mother were pretty traditional. But nowadays, meals are not always traditional, so I have decided to continue on my "Mexican Style" recipe theme as promised in my last blog and share an easy "delicious and nutritious" Mother's Day brunch recipe that can be prepared on your ElectriChef Grill. Avocado Poached Eggs with Salsa and Grilled Crostini would not necessarily be my mother's favorite recipe because it has a bit of a kick, however, she would love all the fresh ingredients and very little mess.
I called my recipe "Mexican Style" because before the Spanish came into Mexico in the 16th Century, Mexicans did not use the word salsa, they called their sauces molli, which means mixture, not sauce. Traditional molli was made by pounding or crushing indignant ingredients based on each region of Mexico. Ingredients, better known and used herein Americanized Mexican food include limes, garlic, cilantro and other Spanish spices brought to Mexico by the Spanish.
Molli/Salsa is not a condiment, it is a sauce used to enhance a dish. Many authentic Mexican restaurants never serve salsa and corn chips on the table for free, in the mind of true Mexican Chefs, this would be the equivalent of serving ketchup and ritz crackers in American restaurants as an appetizer. No matter how you decide to create a salso or molli, I believe you should start with the freshest ingredients available and pound, mash, or blend those ingredients to create a salsa that will add flavor to your preferred proteins. I hope your mom will enjoy this Mother's Day recipe made with love by you on the grill.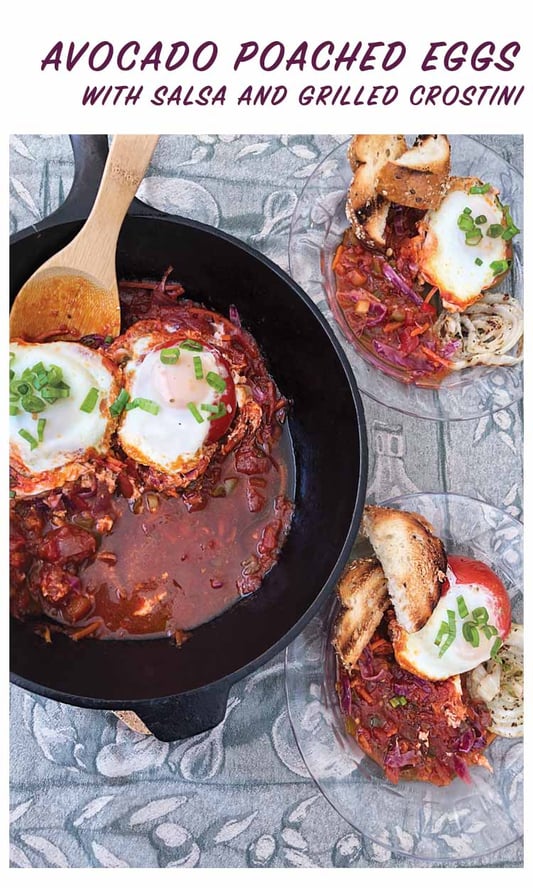 AVOCADO POACHED EGGS WITH SALSA AND GRILLED CROSTINI
Makes: 6 servings
Number of Ingredients: 15
Recipe by: Chef Paulette Bilsky
NOTE: A good store bought salsa can be substituted to make the recipe simpler and still taste delicious. The best place to find fresh salsa is in the produce section of your local grocery store.
SALSA INGREDIENTS
4-5 grilled tomatoes* cut in quarters

1 medium onion cut in quarters and grilled

1/4 cup chopped fresh cilantro or parsley

1 1/2 teaspoons fresh lime juice

1 teaspoon finely chopped jalapeño (remove seeds to reduce heat)

2 cloves garlic lightly grilled

1 tablespoon olive oil

Salt and pepper for taste
NOTE: To grill the tomatoes, onions, and garlic, preheat the ElectriChef Grill to 450℉ and spray with canola spray. Place vegetables on the grate and close lid for about 8-10 minutes and turn once for another 6-8 minute or when the tomatoes and onions have a slight char.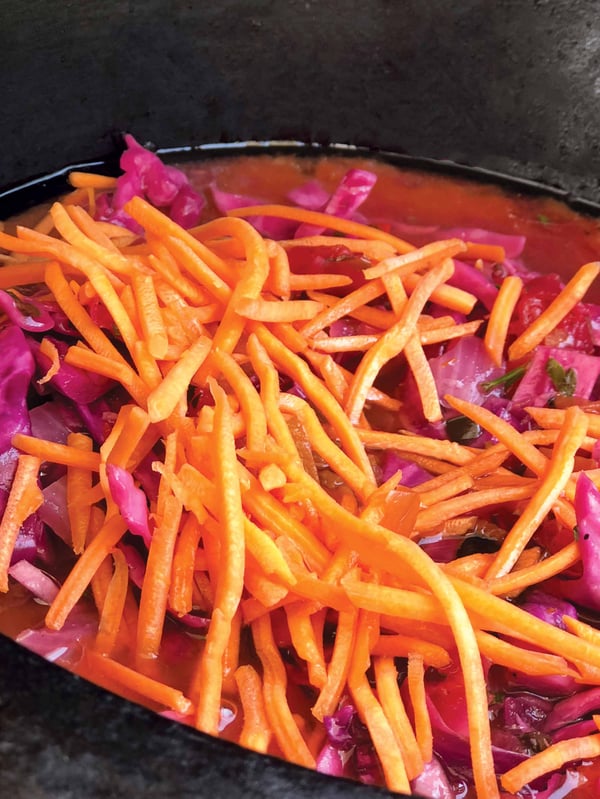 METHOD
Chop half of the tomatoes and onions into smaller chunks and place in a medium size glass bowl.
Place the other half of tomatoes, onion and garlic into a blender and purée. Pour mixture into the first bowl, add lime juice, cilantro, jalapeño, olive oil and salt and pepper to taste. Set aside.
AVOCADO POACHED EGG & GRILLED CROSTINI INGREDIENTS
3 ripe avocados, peeled, cut in half and pit removed
NOTE: Avocados can be replaced by medium tomatoes with core and some of the flesh scooped out.
6 large eggs

3 spring onions (scallions) chopped

Salt and pepper to taste

A loaf of artisanal bread sliced thick

2 tablespoons olive oil

1/2 cup shredded carrots (optional)

1 cup shredded red cabbage (optional)
METHOD
Preheat ElectriChef Grill to 450 F.
Place a 10-12 inch cast iron pan on the grill while preheating.
Pour the salsa (see recipe above) into a pan, add carrots and cabbage if you want to enrich your salsa.
Place avocado (or tomatoes) into the salsa and close grill lid for 12-15 minutes.
Carefully crack each egg into the hole of the avocado as shown in the photo.
NOTE: If you are uncomfortable cracking the egg over the grill, you can crack each egg one at a time into a small bowl and then pour the egg into the avocado hole (or tomato).
Close grill lid for 10-12 minutes or until the eggs are poached to your desired doneness. The longer the eggs are cooked the more firm the yolk will become.
When you crack eggs, baste bread slices with a touch of olive oil and place on grill 2-3 minutes on each side. The thinner the bread the quicker they will toast.
Using oven mitts remove cast iron pan to a heatproof matt and sprinkle chopped spring onions on top of eggs.
Serve with grilled bread and a bouquet of flowers - remember wish mom a happy Mother's day!
NOTE: Depending on the size of your grill, you can make more servings. Double the salsa recipe and just add additional avocados and eggs. A serving is usually one egg, but you can serve two eggs depending on your appetite.