My phone rang the other day and a friend surprised me by asking if I knew any easy appetizer recipes for the holidays! Holidays . . . oh my goodness! I realized Thanksgiving was just about three weeks away and Christmas was a little over a month and a half away! Of course, I pretended I was prepared and immediately suggested two of my favorite appetizer recipes.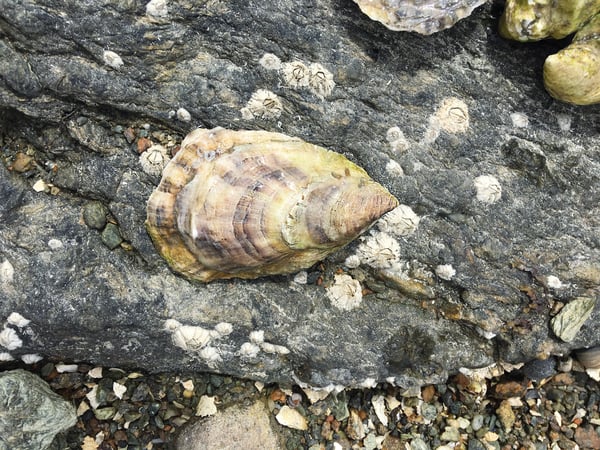 Little did I realize both recipes I recommended would probably put their guests in a very amorous mood! Oysters and asparagus are considered aphrodisiacs because of their high content of Vitamin B6 and amino acids that boost the libido. Yikes, thank goodness this is a food blog because I'm not touching that subject…
Here's my suggestions: Balsamic Glazed Grilled Prosciutto wrapped Asparagus and Grilled Oysters Rockefeller with Lemon and Parmesan.


The Up and Coming Vegetable
All Wrapped Up
Asparagus has always been a favorite go-to vegetable on the grill because they cook so quickly and usually can stand alone without much fuss. It used to primarily be a late spring/early summer vegetable, but lately, because of their popularity, consumers have been able to buy them throughout the year. We can thank California growers who started growing their asparagus crop in February and continue through the fall, providing nearly 80% of the 200 million pounds of fresh asparagus we consume in the United States.
I suggested serving Balsamic Glazed Grilled Prosciutto Wrapped Asparagus because the recipe requires minimum ingredients (5), and when grilled, they pack a delicious flavor in every bite. The crispy prosciutto wrapped around the highly nutritious asparagus (21 vitamin & minerals in every bite!) will satisfy your guests and can be served hot off the grill or room temperature.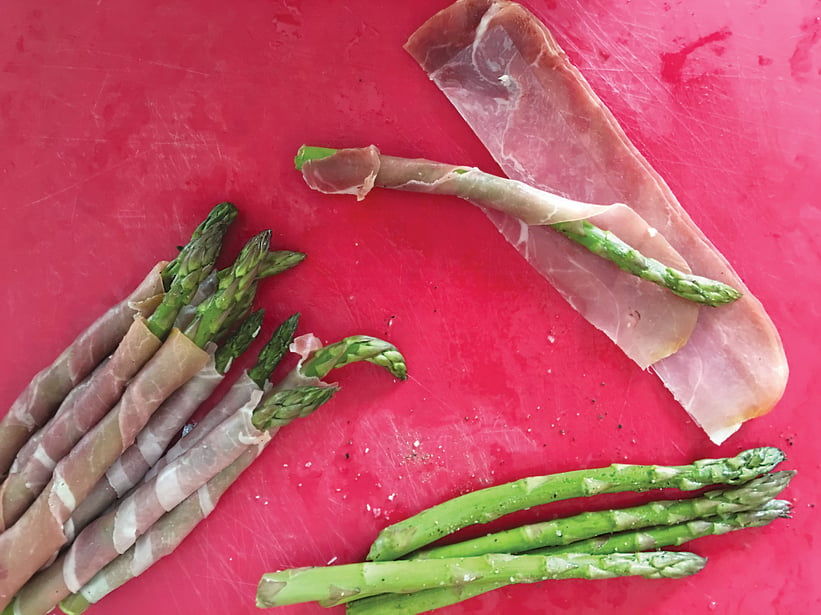 The Easy Way to Open Oysters
Open Sesame!
I remember eating my first grilled oyster at Lake Murray in South Carolina. I thought it was "genius" to put the closed live oyster (which in my mind was impossible to open) on the hot grill grates and allow the steam to open the shell in moments. I probably would have never tasted an oyster if the grill had not been my partner in oyster consumption. So, since that wonderful evening, unless I have a professional oyster shucker in the kitchen, all my oysters go directly to my grill to be opened. I still own an oyster knife and a silicone type mitt to finish the opening of the shell, but I can now open 18 oysters in 10 minutes versus one every 15 minutes!
The natural juices inside the oyster heat up, and once there is even the slightest opening of the shell from the steam produced by the grill, your knife can open the oyster and be ready to consume your prize. The ElectriChef Grill is the perfect oyster steamer because I can add a little water to the drip pan and the oysters open in less than 3-5 minutes. Because of my success on the grill and the ability to get fresh oysters right from the ocean 3 miles from my home in Maine, we ate a lot of oysters over the summer.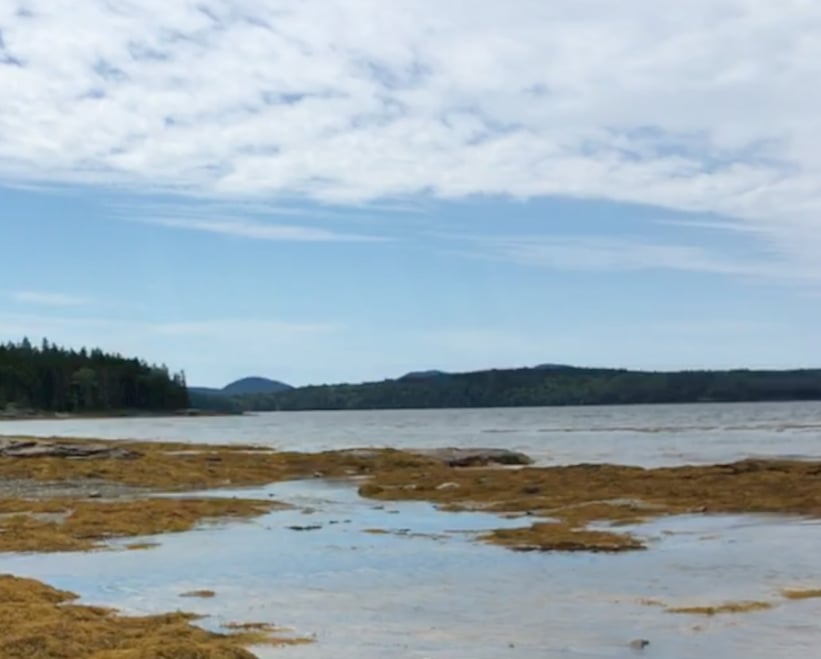 One Oyster to Rule Them All


Perfect for a Holiday Appetizer
I found my guests really enjoyed the Grilled Oysters Rockefeller with Lemon and Parmesan rather than the lightly steamed oysters because of the added flavor. Personally, I love oysters shucked (by someone else), steamed or any way you put them in front of me, but adding bacon, spinach, butter, lemon, and parmesan will be a holiday party favorite.
NOTE: When I returned to Miami in early October, I visited a local seafood monger/retail store and found lots of amazing oysters varieties readily available to buy. If you're going to serve Oysters at your next party, be aware the oysters can live in your refrigerator (40 degrees F) out of water. When you look at an oyster one side of the two shells will appear larger, this is known as the deep side. I recommend you place them deep side down (to retain their juices) in an open container and cover them with a damp towel. You can store oysters this way for up to 5 to 7 days.
Many of the recipes I have included in my ElectriChef blog can be made into smaller portions and served as wonderful holiday appetizers. Over the next few months, my blog will be focusing on other holiday recipes, now that I have my HOLIDAY COUNTDOWN CLOCK up and running. I also want to mention, if you are using your ElectriChef Grill and have a favorite recipe you would like me to consider for next years blog subject, please respond below and I will try to work my grill magic!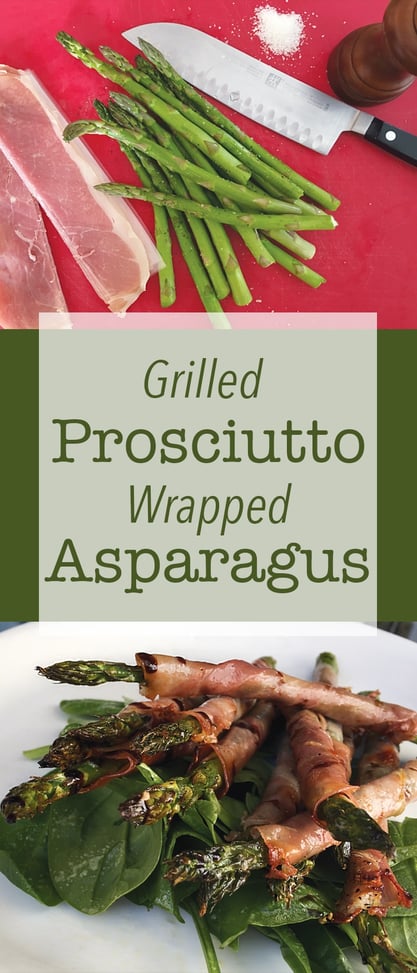 BALSAMIC GLAZED GRILLED PROSCIUTTO WRAPPED ASPARAGUS
Makes: 12 asparagus spears
Number of Ingredients: 5
Recipe by: Chef Paulette Bilsky
INGREDIENTS
12 medium asparagus spears

6 thin slices of prosciutto, cut in half lengthwise

⅓ cup balsamic glaze

⅓ tablespoon olive oil

¼ teaspoon each Kosher salt and black pepper
METHOD
Rinse asparagus and snap or cut off woodsy portion of stem.
PRO TIP: Once you snap off the end of one asparagus, you can line up remaining asparagus and just cut the stems in the same place. If you prefer not to do this, use a vegetable peeler and peel the woodsy portion of the bottom inch or so of the asparagus, leaving behind the edible inside portion.
Sprinkle asparagus with salt and pepper.
Working one spear at a time, roll each one in a piece of prosciutto, starting from bottom to top leaving a half inch of asparagus tip exposed.
Spray your ElectriChef grill grates with Canola oil then preheat your Electric Grill to 500°F.
Place asparagus on the grill turning them only once until prosciutto is crisp and the asparagus are crispy and tender, about 2-3 minutes on each side.
Arrange spears on an oval plate and drizzle with balsamic vinegar.

GRILLED OYSTERS ROCKEFELLER WITH LEMON AND PARMESAN
Makes: 24 oysters
Number of Ingredients: 10
Recipe by: Chef Paulette Bilsky
INGREDIENTS
24 dozen oysters in the shell

1 ½ sticks unsalted butter, melted

1½ cup finely chopped spinach, fresh or frozen

3 cloves garlic, finely chopped6 slices bacon or pancetta, cooked and chopped

1 cup breadcrumbs, panic is preferred

2 lemons, you can use extra lemons cut in wedges for garnish

1 cup shaved Parmesan cheese

1 tomato or red pepper, remove seeds and chopped

Kosher salt and ground black pepper to taste
METHOD
Place melted butter, spinach, garlic, bacon and breadcrumbs in a bowl and toss together. Set aside.
Spray your ElectriChef grill grates with Canola oil then preheat your Electric Grill to 550°F.
Place oysters, whole in shell, on your ElectriChef grill.
Pour 1 cup water over oysters into drip tray and close the grill lid.
Grill/Steam oysters for about 5 minutes or until oyster shells begin to steam open.
Use a silicon mitt or potholder to remove the oyster shell from grill. Hold oyster shell in protected hand with "deep side" of oyster shell down, place shucking blade into opening and twist blade to separate the top and bottom shell. Pull open shell, and run knife blade over the top of connecting muscle to release oyster from the shell. Be careful not to pour out the juices as you open shell. This is why you hold the oyster with the deeper side down.
Discard top half of shell. Repeat this method with the remaining oysters, put back on the grill.
Using a teaspoon, carefully add spinach mixture equally to each opened oyster and season with salt and pepper.
Drizzle lemon juice over each oyster and add parmesan cheese and panko breadcrumbs to each oyster. Close grill lid for about 6-8 minutes or cheese is melted. Remove each oyster with tongs to a decorative plate and serve with additional lemon wedges and a parsley bouquet.
What's Next? Looking for some other holiday recipes? Try these grilled apple recipes

that are bound to delight your guest!