A movement that blurs the distinction between the indoors and out continues to pick up momentum.
New technologies, such as outdoor kitchen grills designed to meet "no open flame laws," are opening up this luxurious outdoor kitchen lifestyle to condominium balconies and patios located in some of the most exclusive addresses!
The Benefits of Having an Outdoor Kitchen
The demand for outdoor kitchen environments continues to grow.
In the first quarter of 2016, a national survey of more than 500 residential-architecture firms conducted by the American Institute of Architects found that 69% of firms saw increased demand from clients for the design of an outdoor living space.
The trend is accelerating away from formal living spaces and toward a more relaxed atmosphere, including the benefits of extending living spaces into an area such as a balcony that may have originally had little entertainment appeal.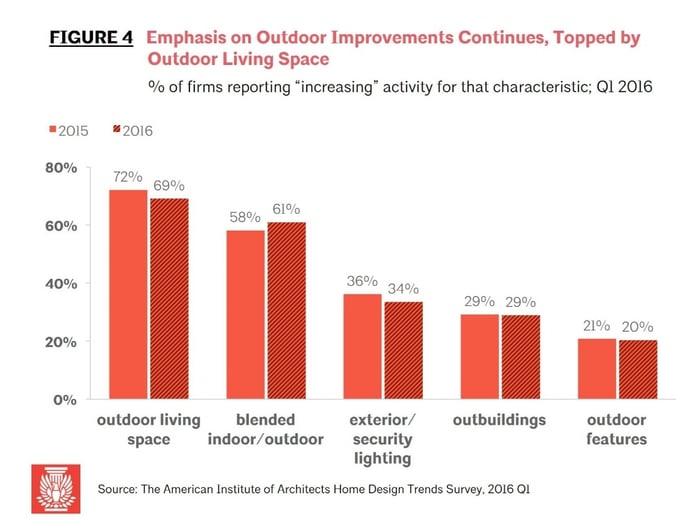 But outdoor kitchens are not just a good lifestyle investment. Financially, they provide one of the highest returns on investment (ROI) for money spent on any product in the "luxury outdoor product category."
CNN Money, Remodeling Magazine, and About.com support that outdoor kitchens nationally return 100% to 200% of the improvement cost.
We've pulled together what we believe are three reasons for this excellent ROI on an outdoor kitchen, and it is more than just purchasing an outdoor kitchen grill made of stainless steel and high-quality components.
Three Reasons Outdoor Kitchens Boost Your Property ROI
Reason #1: Outdoor Kitchens Give You More Useable Living Space
A professionally designed outdoor kitchen will include one of the best outdoor kitchen grills you can buy. It will also include other amenities like storage space for utensils, a small refrigerator to keep food and drinks cold, and plenty of seating and mingling area.
You may prefer an island style with bar height chairs for entertaining or an L-shaped island. Be sure to design your outdoor kitchen so that the transition between indoors and outdoors is blurred and flows naturally. And yes, have cozy spots for friends to relax and mingle while you awe them with your cooking expertise on a premium outdoor kitchen grill, or serve them up cocktails that keep them coming back for more.
Reason #2: Outdoor Kitchens Are Where Great Memories Are Made


You will be excited to be in the middle of the outdoor activity rather than isolated inside, while your friends enjoy the amazing view, hot tub, or another focal point of your outside living space.
One of the main benefits of having an outdoor kitchen grill is you will entertain more, build stronger relationships, and have more fun! If your home is like ours, guests tend to congregate where the activity and food is, so your outdoor kitchen grill can easily become the center of everyone's attention.
REASON #3: Embrace a Healthier Lifestyle Using an Outdoor Kitchen Grill
Cooking shows have grown in popularity along with the appreciation of cooking fresh, quality seafood, meats, and vegetables. When cooked over a professionally designed outdoor kitchen grills, like ElectriChef's, the food will taste as good (if not better) than your favorite high-end restaurant, and you know exactly what is in that favorite dish.
Find the Right Outdoor Kitchen Grill for Your Outdoor Living Space
At ElectriChef, we only sell electric outdoor grills and we believe that the subtle flavors of gourmet grilled food is better discerned without the combustion products you get from gas or charcoal.
These are just 3 of the many reasons we believe that an outdoor kitchen outfitted with the world's best outdoor kitchen grills, made by ElectriChef, is an investment that will bring you enjoyment and provide you with a strong ROI if you ever decide to sell your property.
Finally, every ElectriChef outdoor kitchen grill is designed to meet "no open flame ordinances," enabling the next level of luxury grills for apartments and condos where it was not possible before.