America loves to grill. From the west coast to the east and everywhere in between, grilling is a trend that is here to stay. And, the reason is simple. Grilling is a great way to connect with family and friends and live out a healthy lifestyle.
In fact, one-third of all grill owners report that grilling helps them spend more time with friends and family. There's only one problem, though. Not everyone has a backyard or space to fire up a grill. What if you are limited to using an apartment grill or entertaining on the balcony of your condo?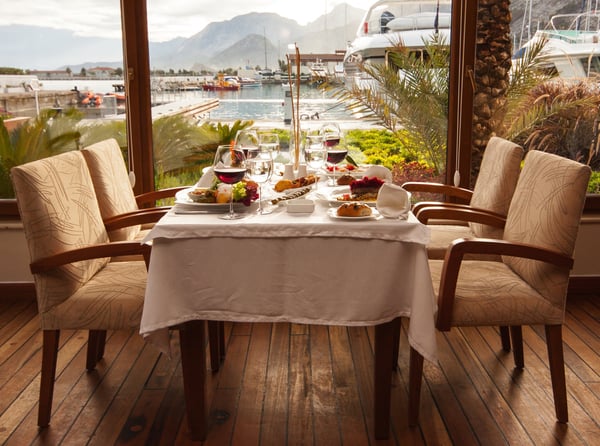 Recent census data shows that approximately 12% of the entire US population resides in apartments. Since many apartment and condo complexes prohibit open flame grills, millions of Americans are left wondering if they can enjoy the same benefits of grilling out that their friends enjoy.
Changing the Status Quo
For apartments and condos everywhere
There is hope, though. If you are an apartment dweller wanting to maximize your outdoor space with an apartment grill, there are plenty of electric grill options available on the market. Most electric grills comply with no-open flame ordinances and are safe to use on balconies, terraces and outdoor urban spaces.
The only downside is that many electric grills ask you to compromise on quality. Many, if not most electric grills sold at big box stores are merely electric flat-top griddles with grill marks embedded. This design may give the food a grilled look, but does a poor job of creating those distinctive grilled flavors.
Going Places Grills Have Never Been
Without compromise
So, if you're seeking a quality authentic grill that is safe to use at your apartment or condo, you're search is over. ElectriChef makes top quality outdoor electric grills that deliver on convenience and quality – no compromises needed. ElectriChef designs and manufactures grills for apartment dwellers and luxury residential developments, where open flame ordinances prohibit traditional flame grills.
High quality 304 stainless steel construction, powerful heating elements and steel grill grates allow you to sear a rib-eye to steakhouse standards, giving your food those distinctive marks and flavor you expect from a premium grill. These features and more combine to provide you with a quality, chef-inspired grilling experience from the convenience of your balcony or terrace.
So, if you live in an apartment or condo and have never been able to grill those recipes you see on television or Instagram, ElectriChef has the apartment grill of your dreams. And, whether you pay a premium price for a beachfront condo in Miami or want to turn your apartment balcony into a functional space for entertaining, an ElectriChef built-in or tabletop grill opens a new world of possibilities for you. You should know, however, once you experience the convenience of a premium electric grill, you may never go back to charcoal or gas.
A lifetime of chef-quality meals grilled from the comfort of your apartment or condo balcony is just a click away. Discover how ElectriChef can help you turn your apartment grill into your forever grill.