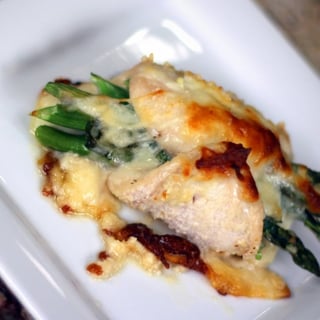 Stuffed grilled chicken breasts are even better when you class them up a bit. Size Serving: 4
Ingredients
4 large, boneless chicken breast halves
½ lb smoked Virginia ham, sliced thinly
4 ounces goat cheese
12 thin spears asparagus spears, eyes removed
Waxed or parchment paper
Kitchen string
Meat mallet
1. Parboil the asparagus in boiling salted water for 7 minutes.
2. Drain and rinse.
3. Using the flat side of the meat mallet, pound chicken breasts between two sheets of waxed or parchment paper and to 1/2 " thickness (don't overdo it – they can get too flat very quickly).
4. Place a slice of ham on each breast.
5. Spread 1 ounce of the goat cheese on top of the ham.
6. Place three asparagus spears on one edge and roll the breasts up.
7. Tie the rolls at each end with a short length of kitchen string.
8. Paint each chicken breast with olive oil
9. Place them on a 375° grill, turning every 4 or 5 minutes until done: about 15 minutes.
Serve the stuffed grilled chicken breast over rice or cous cous.